If a student is no longer in a class or you wish to remove them it's easy to do this as an Instructor with these steps.
1. Navigate to the "Educator Portal" home.
2. Click on the "Classes" tab.
3. Choose the class your student is enrolled in.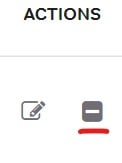 4. Scroll until you find your student.
5. On the far right column you will see "Actions"
6. The furthest icon, a grey square, will allow you to unenroll the student from your class.
7. You will be prompted to confirm this action and if you'd like to continue, click "Unenroll Student".
You can also choose to archive entire classes as well.