If you were wondering whether or not it's possible to fail student teaching, you should know that it's absolutely possible. Most universities grade student teaching with pass or fail. This means that if you don't meet the standards to pass, you're sure to fail. So what are some of the things that you could do to fail? Check out these 5 ways people tend to fail student teaching.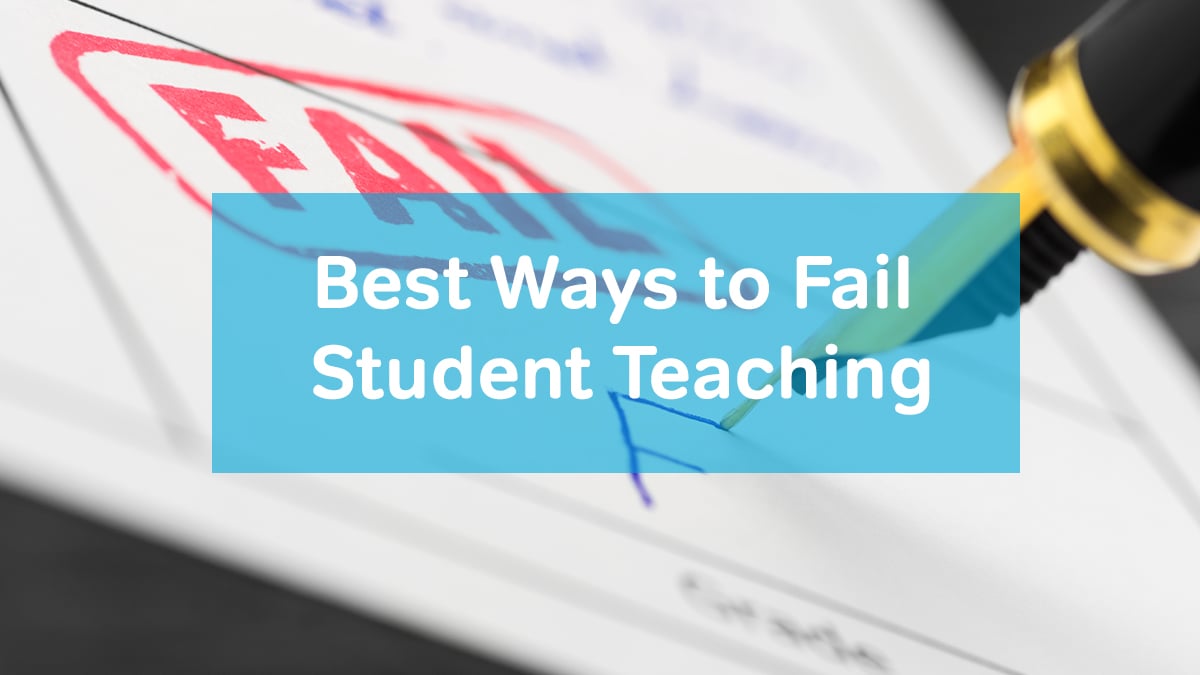 Lack of Improvement
You're not going to be a master teacher at the end of your student teaching experience. It's just not going to happen, and your cooperating teacher and university supervisor know that. However, you should show that you're willing to take criticism and constructive feedback and put it into action. Show that you've improved and that you're working towards becoming the type of teacher that you've always wanted to become.
Conflicts with Cooperating Teacher
Many cooperating teachers struggle to give up their classroom to a student teacher. You may have a teacher who doesn't know what to say or do with a student teacher. You may even have one who's personality just clashes with yours. Unfortunately, conflicts with your cooperating teacher can impact your grade.
To prevent this from being the case, be open with and be ready to ask questions of your cooperating teacher. Ask him or her what you need to do to pass. Try to be humble and teachable. Do things the way that your cooperating teacher asks. Remember–you'll have your own classroom soon enough where you can do things your own way when you pass.
Miss Several Class Periods
Sometimes you can't help it. You get sick, your car breaks down on the way, or you have a family emergency. If it seems like you're going to miss a lot of class periods, you should speak to your university supervisor and withdraw from the semester. Come back to complete student teaching when you can give it the attention that it deserves. Otherwise, you should be there come rain or shine!
Fail to Prepare
It doesn't reflect well on your abilities as a teacher when you don't come to class prepared to teach. You need to have your lesson ready with everything that you need. If you fail to prepare, you'll get lower scores on your evaluations from your cooperating teacher and university supervisor.
Instead, don't just prepare: over prepare! Make sure that you have more than enough material to get through the day. Also, show up early to school, so you can gather materials and get everything ready to go. Let your cooperating teacher and university supervisor see that you're working hard to earn that passing score.
Inappropriate Behavior with Students
Inappropriate behavior could be anything, including yelling at a student. You don't want that student's parent coming in to the principal and demanding that you get removed from the school. Watch your professional conduct, and have your cooperating teacher around when speaking to students. That way your cooperating teacher can vouch for you if you are having to deal with irate parents or administrators.
Before you begin student teaching, determine what you need to do to pass and what it would take to fail student teaching. Use the time to work hard and learn a lot, so you can be better prepared to get your own classroom and become a full-fledged teacher.