Discounted pricing starts at 10 seats or more. Is this you? Keep scrolling.
Magoosh is What LSAT Prep Should Be
It's simple to learn everything you need to know just like others have!
I thought I would end up using Magoosh as a supplement to a more traditional study plan, but I ended up relying heavily on the explainer videos, which really brought the problems and strategies to life. All of this was available for a very reasonable price, especially considering the email support that was available.
I was afraid I would not be able to achieve any success completing a self-study course, but instead, Magoosh offered a self-paced course with plenty of help and knowledgeable backup videos and prompt individual responses. I loved it and it was one of the best investments I have ever made in study-solution resources.
Magoosh Effective & Accessible
With Magoosh, your test-prep process just got effective, accessible, and best of all, it doesn't;t have to break your budget. With Magoosh LSAT test-prep, your students can study anywhere, anytime on desktop or mobile.
You and your students can get email assistance whenever stuck.
With our LSAT test-prep, you get in-depth video lessons that cover concepts, pitfalls, and shortcuts other students have fallen prey to as well as a responsive team of remote tutors answering your questions via email.
All for an unbeatable price averaging a fourth the price of other test-prep competitors.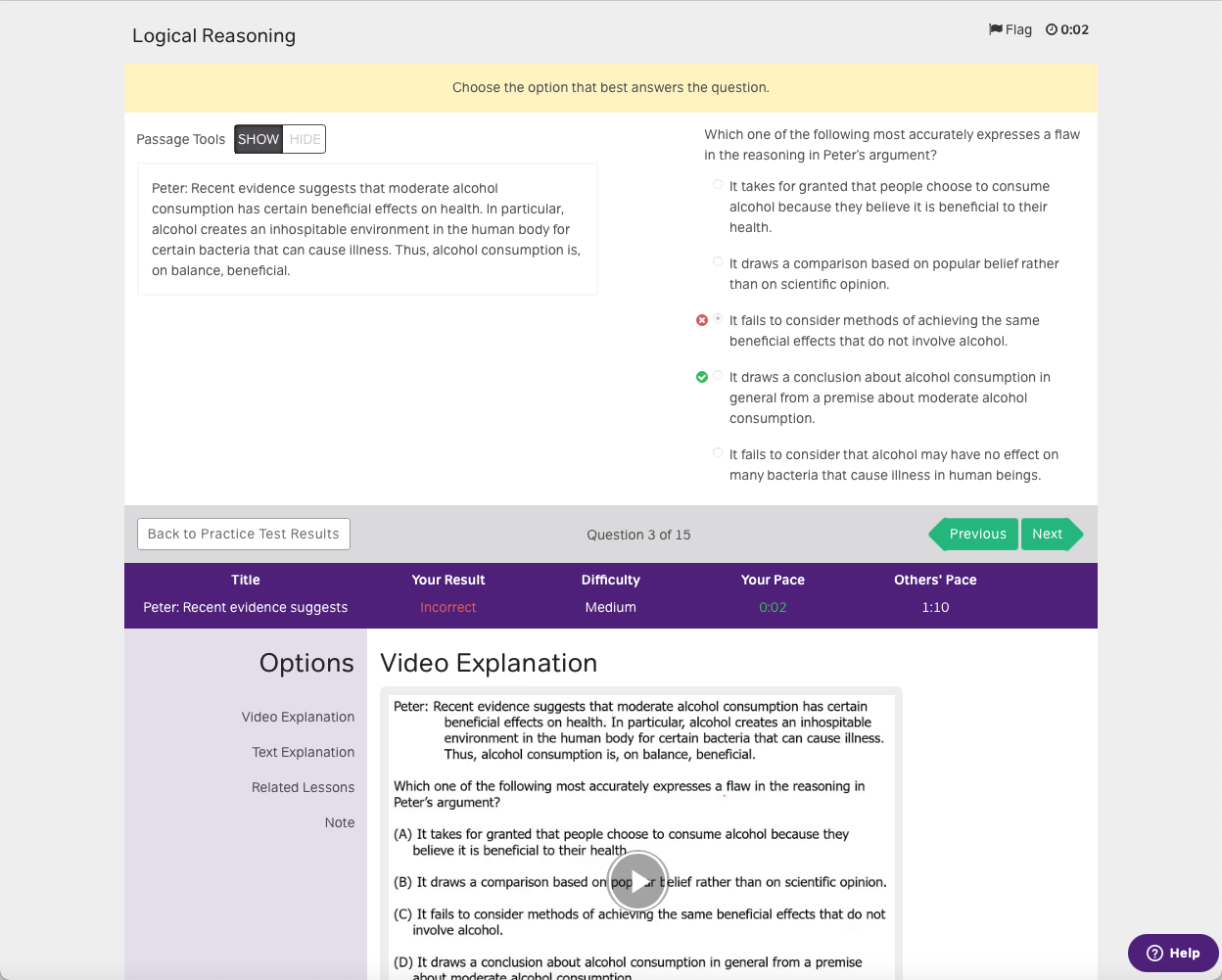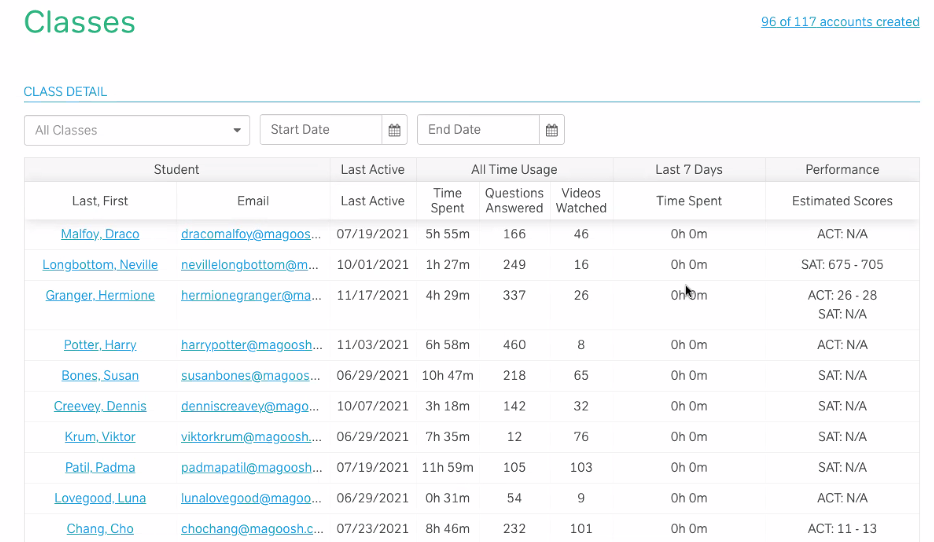 Your Educator Portal
Your Magoosh purchase provides you with a free educator portal account.
Your educator portal allows you to distribute student accounts, monitor student progress, and view your full Magoosh product. As you work with your students you can see their estimated scores, questions answered, videos watched, and time spent learning with Magoosh as well as drill down to see every question a student has answered.
Whether you're looking for a quick overview or more granular detailed information your educator portal gives you access to what you need with ease!
Improve with our LSAT APP
Master words at every level! Magoosh's free LSAT concepts flashcards span many topics, including LSAT Basics, Logic Games, Transitional Language, and more.
Leverage flashcards on the go. With a great design optimized for the web, iPhone, and Android, you can take your LSAT flashcards with you anywhere, so studying on the go is a breeze.
Learn from our LSAT experts you can trust. Our LSAT experts have carefully selected 190 of the most common and challenging concepts on the LSAT to focus your practice.
Get the LSAT practice that really sticks. Magoosh focuses your practice on the words you need to review the most, saving you valuable time and ensuring you truly remember what you have studied.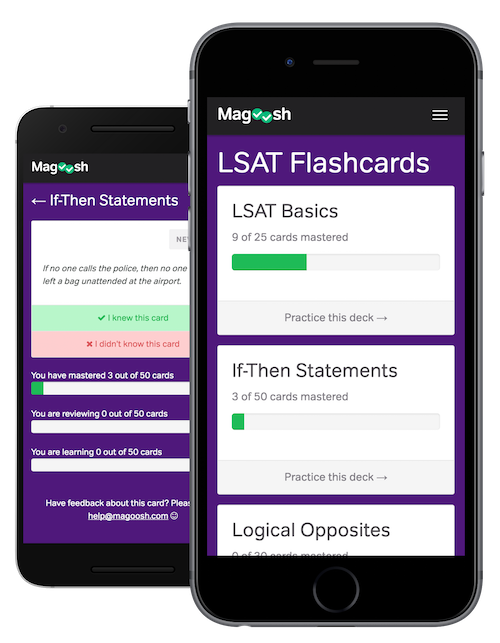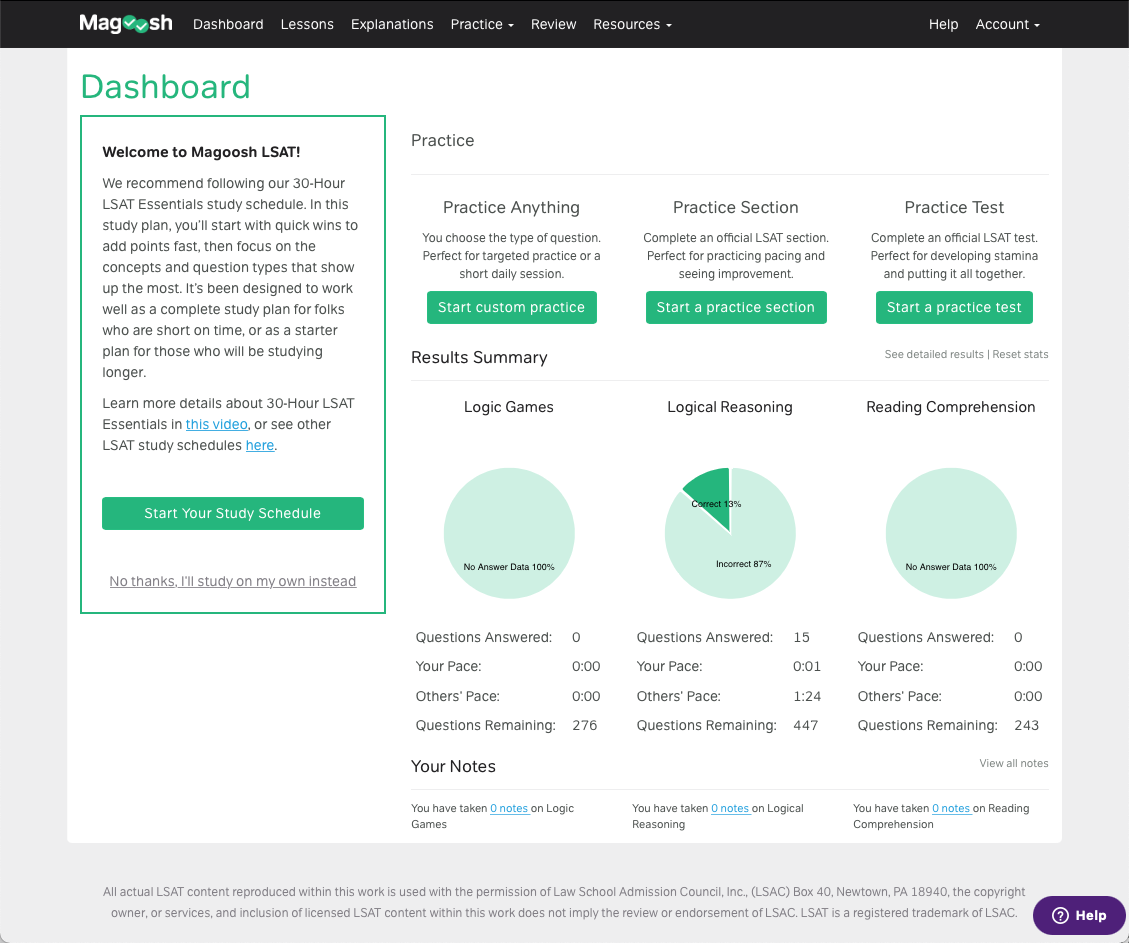 What You Get with Magoosh
Over 7000+ official LSAT questions
90+ comprehensive video strategy lessons
200+ additional Logic Game explanations
12 months of access
Timed practice tests on an official LSAT test day interface
Email assistance from tutors
Updated score conversions
Includes Official LSAC Prep Plus™ access ($99, included in price!)
Magoosh, Designed to WOW!
Are you ready to transform how your students study? Want to get the LSAT prep that makes the most impact in the least amount of time?

Then leverage Magooshes unbeatable test prep pricing and let's have a conversation.
The explanations were superior to Khan Academy LSAC offered for free. It is also superior to Kaplan in that I can hear the lessons as often as I needed; with Kaplan, once you leave the class, it is over. I like the transcripts of the lessons, too. And, the personal emails from the instructors were very thorough. And... the price is so reasonable! I have already recommended Magoosh and will continue to do so. Wish I had found Magoosh two years ago!