Discounted pricing starts at 10 seats or more. Is this you? Keep scrolling.
Magoosh is What SAT Prep Should Be
We've proudly helped over 100,000 students study for the SAT.
Magoosh gave me a lot of helpful tips and strategies unlike any other program i've used. Extremely thorough and detailed explanations of every concept imaginable.
There were more difficult questions on Magoosh. The explanations were also extremely helpful and made me understand my mistakes.
Why You'll Love Magoosh SAT
We've designed one of the best SAT prep courses around improving your students as quickly as possible. Our lesson videos and practice questions are regularly reviewed and updated based on performance analysis from thousands of test-takers, so your students are always getting the most relevant and up-to-date material available.
We don't overwhelm your students with never-ending questions — we make every question count! Your students can also take our short diagnostic test to identify and target their weaknesses.
We give you everything you need to make SAT prep a breeze for your students. Plus, you and your students can access our dedicated team of experienced SAT Tutors if you ever get stuck, 24/7.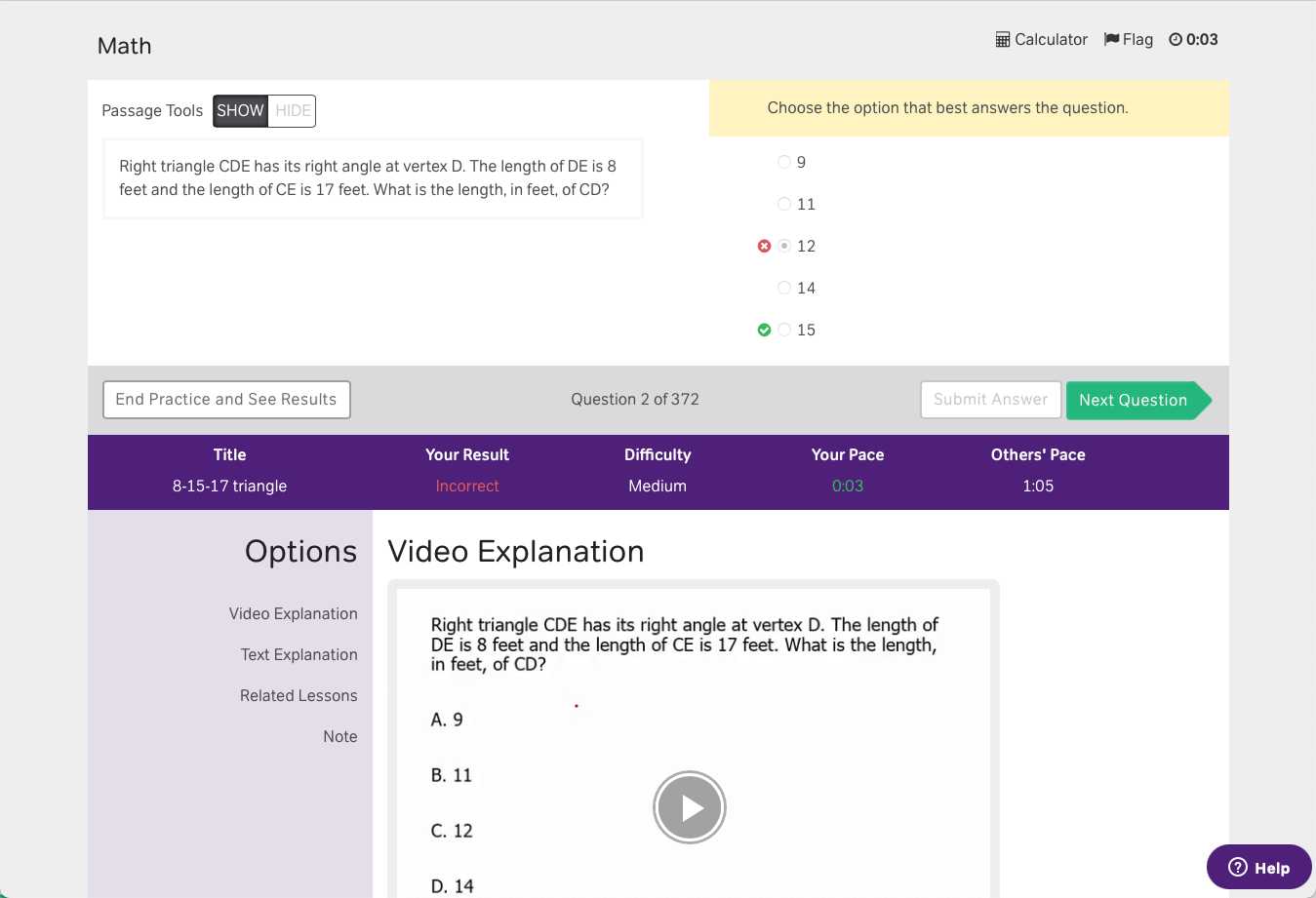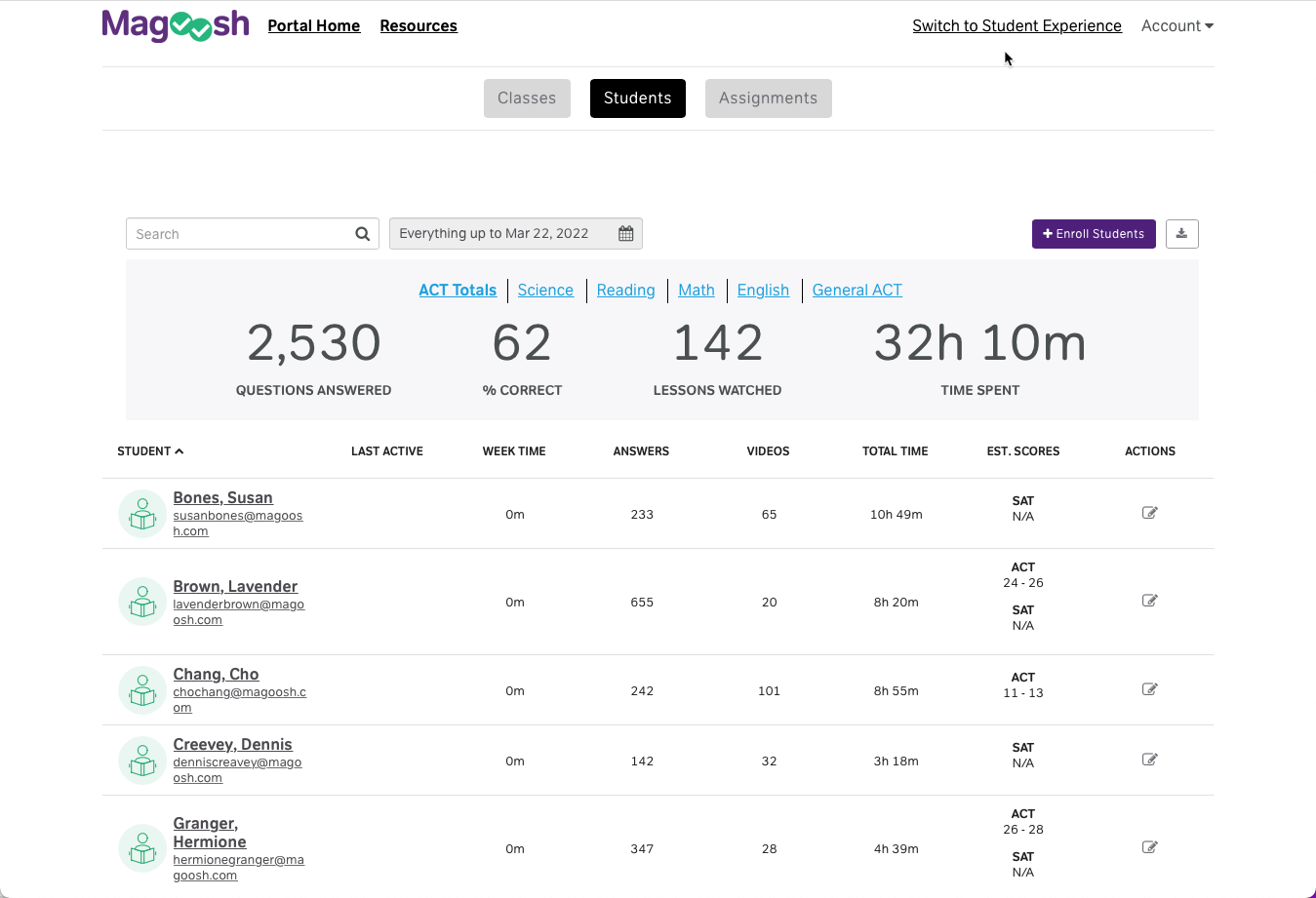 Your Educator Portal
With your Magoosh purchase, you are provided with a free educator portal account. Your educator portal gives you access to distribute student accounts, manage classes and students, monitor student progress, download reports, assign assignments, and view your full Magoosh product.
As you work with your students you can see their estimated scores, questions answered, videos watched, and time spent learning with Magoosh as well as drill down to see every question a student has answered. Whether you're looking for a quick overview or more granular detailed information your educator portal gives you access to what you need with ease!
What do you get?
Over 1,750 practice questions
Video and/or text explanations for every question
Up to 3 practice tests
Over 200 video lessons
Study schedules
Email assistance from our expert tutors
Data-driven score prediction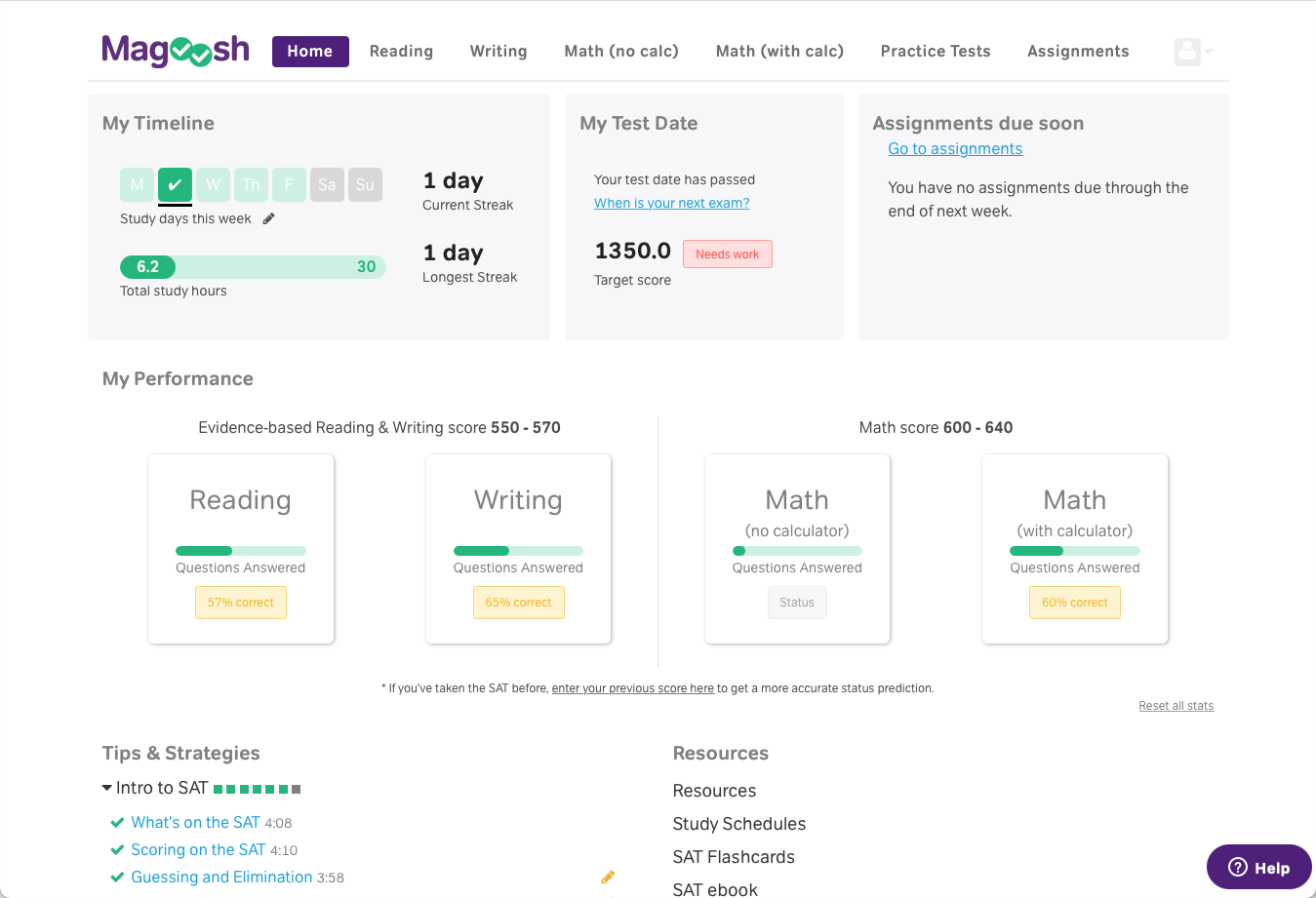 Magoosh, Designed to WOW!
Are you ready to transform how your students study? Want to get the SAT prep that makes the most impact in the least amount of time?
Then leverage Magooshes unbeatable SAT test prep pricing and let's have a conversation today.
Magoosh helped me raise my SAT score by 180 points. By showing me how to confront certain test questions that I've always struggled with, Magoosh has become a huge benefactor in my voyage into college acceptance. Not to mention the teachers were a lot of fun and made the learning process completely tolerable.