Your time as a student teacher is just about over. You've overcome your student teaching fears and you've learned some lessons. But there's still one thing that you need to do: thank your cooperating teacher. Your cooperating teacher gave up their classroom in order to help you practice and hone in on your teaching skills. They helped you, advised you, encouraged you, and more. Show them appreciation, and tell them how much their help meant to you. Here are some ideas for thanking cooperating teachers.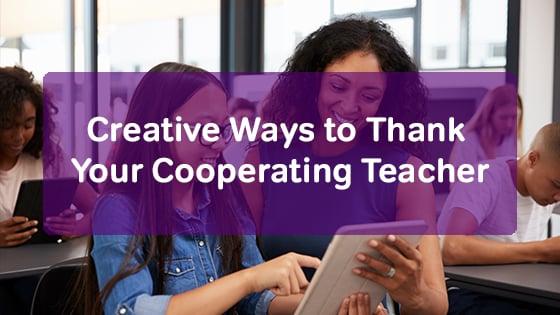 Get Creative
You don't have to spend a lot of money to say thank you. If it's the thought that counts, you just need to think about it and get creative. Consider a fun thing that you can do to thank your cooperating teacher. You could organize a flash mob with the students or write a silly poem to deliver in class. Think outside of the box for an interesting idea to show your appreciation and make your cooperating teacher smile.
Get Personal
With the amount of time spent with your cooperating teacher, chances are that you've learned a thing or two about what makes them tick. Does she have to have her Diet Coke in the morning? Then, cases of soda might be just the ticket. Does he collect superhero memorabilia? Then, find the perfect item to add to his collection. Other things that you could gift include a mix tape (or playlist), subscription boxes, or memberships.
Get Crafty
If you're crafty, put your skills to good use to create the perfect gift for thanking cooperating teachers. Some of the items to consider include:
A scrapbook
Picture collage
Painting
Door sign
You can also find some fun ways to say thank you on Pinterest and other sites. These things include purchasing certain items and creating a tag to attach to it. For example, buy a dozen donuts and add a note that says "Donut I'd do without you." Or present your cooperating teacher with a gift card for the app store and a note that reads "An App(le) for the teacher!"
Get Traditional
Some of the most traditional gifts include a card with a gift card in it. Note: teachers especially love gift cards to Starbucks. They also benefit from items for their classroom, especially books. Think about some of the traditional presents that you could give your cooperating teacher, and ask yourself "what items are needed for the classroom?"
Get Heartfelt
No matter what you decide to do, don't forget to include a letter. A handwritten thank-you letter is a great way to tell someone thank you and tell them how much you appreciate all that they've done for you. In the letter, you can name certain ways they helped you or specific lessons you learned. Let them know how much those things meant to you and how it will affect your future career as a teacher.