Classroom management. It's a much-discussed topic in teacher education programs, continuing education courses, and among teachers and administrators. Teachers don't want to spend their days reprimanding difficult students. They want to focus on the needs of their students. They want to help their students really grasp the lessons and increase their knowledge and understanding. So how do they do this? They need to master the basics and learn the following do's and don'ts of classroom management.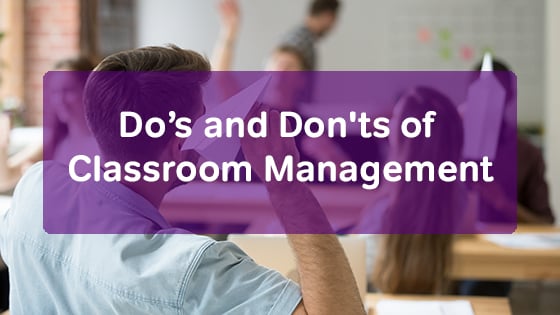 Do…
Make your expectations clear on the first day of school.
Enforce the rules consistently. Every day. For every student.
Build a rapport with the students and get to know them.
Plan lessons

that keep students engaged.
Pay attention to your reaction, and stay calm.
Reach out to your

students' parents. Let them know how students are doing.
Greet students when they come into your classroom.
Be empathetic to your students. Show them that you care.
Discover underlying causes for misbehavior, and figure out how to help students overcome these issues.
Vary your

teaching strategies

to keep students interested.
Stay organized and manage your time in class.
Use

non-verbal cues

with students, such as standing by students who are off task.
Don't…
Select

too many rules

for your students.
Confront students in front of the class. It's better to send students to the hallway or meet them after class.
Humiliate or embarrass your students. For example, refrain from calling on an off-task student to answer a question for the class.
Raise your voice or yell at your students.
Take things personally or hold grudges. Remember: tomorrow is a new day!
Be afraid to ask for help from other teachers and administrators. Chances are that someone has dealt with a similar classroom management issue and can offer insight to help you.
Classroom management is difficult for many new teachers. You can learn all sorts of tips and tricks in school and during student teaching. However, when you're thrown into your own class, there are going to be issues that you're not prepared to handle. Remembering the do's and don'ts of classroom management can help you figure out the best ways to handle these issues and help your students learn and benefit from your class.