Student teaching is a full-time job…literally. A student teacher does all the same things that a full-time salaried teacher would do.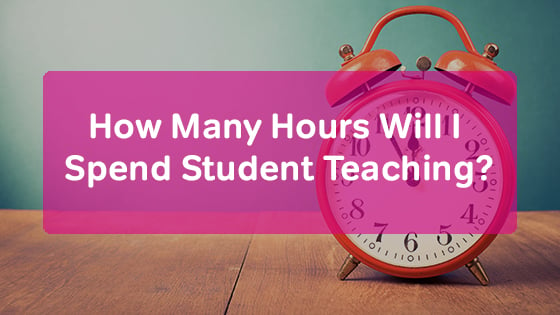 Examining what a full-time teacher really does will help you understand your student teaching time commitment.
How Many Hours Will You Spend Student Teaching in the Classroom?
Teachers are usually scheduled for around 6 to 7 hours of classroom teaching per day. As a student teacher, you'll be held to the same standards. So expect to spend 30-35 hours a week standing in the classroom. This in and of itself may not sound like "full time." But of course, there's far more to teaching–student or otherwise–than just the time you spend in front of your students.
How Many Hours Will You Spend on Lesson Preparation During Student Teaching?
Every class you teach requires some lesson prep. As your teaching career progresses, you'll get faster at preparing for these lessons. But for now, you're inexperienced. As a student teacher, there's a good chance you'll spend about as much time prepping a lesson as you spend teaching it.
Thankfully, this does not mean that your prep time will match your teaching time hour-for-hour while you student teach. Remember that you will be teaching the same lesson multiple times to different groups of students. (Also, we have student teaching lesson plan tips to get you started.)
So you may spend 45 minutes preparing a 45 minute lesson…that you'll teach five times to five different groups of students over the course of the week. You will probably need to make slight adjustments to the lesson for each group of students. But the primary prep time–the 45 minutes you spend designing the lesson and creating the materials–only needs to be done once.
Not all lesson plans are created equal, so it's hard to say just how many hours of prep time you'll spend in a given week of student teaching. Based on my own years of teaching experience, however, I can tell you that it's likely you'll spend about 15 minutes doing lesson prep for every 60 minutes in the classroom.
Looking at the 30-35 hours of in-class time I mentioned above, this means that you'll spend between 37 and 44 hours a week on lesson prep and classroom teaching combined. But we're not done yet. There are still a few other things that will take up your time when you student teach.
How Many Hours Will You Spend Doing Other Teaching Duties While You Student Teach?
Lessons and lesson prep are the meat and bones of your student teaching schedule. But there are a few other responsibilities you'll take on. You'll communicate with parents, fill out paperwork, attend school events, and possibly supervise an extracurricular activity or two.
It's hard to quantify exactly how much time these other assorted student teacher duties will take. But around 10 hours a week–maybe a little more–would be a good guess.
OK, So How Many Hours Per Week Will You Spend Total on Student Teaching?
A recent study shows that teachers work an average of 53 hours a week during the school year. You can probably expect to spend a similar amount of time on your various teaching duties from week to week. However, for you, the workload doesn't quite end there. You'll also have academic responsibilities: meeting with advisers and doing homework assignments related to your student teaching experience.
With your academic activities factored in, you should expect to spend around 60 hours a week in your various student teaching activities. If this sounds like a heavy workload…well, it kind of is. However, once you're done, you're done!
And your future teaching job will not be quite that busy. Once you become a professional teacher, you won't have homework to do on top of your teaching. And you'll get a nice long summer break so that you can recharge after a school year of 50+ hour weeks.