So the unthinkable has happened. You had a bad student teaching experience. Maybe you didn't reach any of the goals you set as a student teacher. Maybe you and your cooperating teacher never got along. Or perhaps you received low marks from your student teaching supervisors at your university.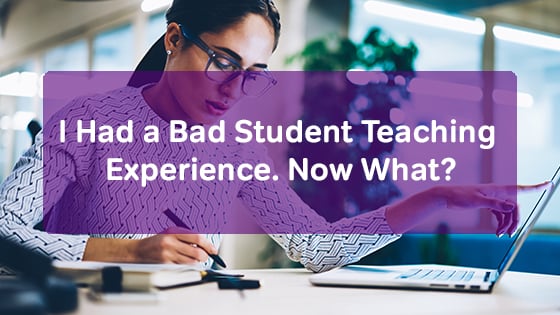 Whatever went wrong, a bad student teaching experience has two obvious potential consequences.
you might not get a good reference from the school where you student taught, and
your university might make you re-do your student teaching.
What to Do When Your Bad Student Teaching Experience Leads to a Bad Reference
Getting a bad reference from the school where you student taught has a definite impact on your job hunt. Most potential employers see student teaching as real work, and will treat your student teaching experience as your most recent job. They'll want to talk to your cooperating teacher if possible. And if your cooperating teacher speaks poorly of you, the schools you apply to will see that as significant.
So if you've had a bad student teaching experience and aren't expecting a good reference from your cooperating teacher, you'll want to have alternate good references. There may be other teachers or administrators at the school who do feel you did a good job, even if your cooperating teacher doesn't.
When approaching other teachers or school officials for a possible good reference, be professional. Don't trash your cooperating teacher — he or she is a colleague and probably a friend to your other potential references at the school. Explain your cooperating teacher's concerns in a soft-spoken way. Then give honest reasons that you feel you still deserve a good reference from someone.
Professors at your university are possible good references too. If your cooperating teacher doesn't recommend you for a teaching job, there's a decent chance that employers will respect any "second opinion" they hear from your professors. After all, your professors worked with you for years; your cooperating teacher probably only worked with you for a few months.
Last but certainly not least, consider turning to other schools where you've done field experience — schools you visited for classroom observations, volunteer teacher's aide work, and so on. You likely had a working relationship with several different schools by the time you started student teaching — all of these schools are potential sources of good recommendations that employers will respect.
What to Do When a Bad Student Experience Causes You to Fail Student Teaching
You can fail student teaching for a number of reasons related to your bad student teaching experience. If this happens, you'll need to re-take your student teaching. This means waiting until the next academic term to start over at a new school.
A student teaching re-do can be a blessing in disguise. Your retake can effectively erase all the long-term consequences of your bad student teaching experience. Do well the second time around, and you'll replace the bad grade on your transcript with a better grade. You'll also replace any bad references with fresh, better references. Employers will be interested in what your second student teaching school has to say, not your first one.
The Takeaway
Whether you get a bad reference, a failing grade, or both — having a bad student teaching experience is something you can learn and grow from. Even the most experienced and talented veteran teachers have times when things go disastrously wrong. The trick to being a successful teacher in the long run is to avoid making the same mistakes twice. Think about the bad experiences you had, and think of ways you can avoid similar bad experiences — or mitigate them — in the future.