We recently gave a webinar on how to use the Magoosh Student Platform! If you're curious about what it looks like to use Magoosh, we encourage you to familiarize yourself with and share with your students! We hope it helps you better support your students through their ACT and SAT test prep, especially if you plan to assign them test prep practice work through the platform.
We'll be covering the the key highlights from the Student Platform Webinar. If you have follow up questions or want to see more, we encourage you to view the recording in its entirety!
Also, a quick note on this webinar: we share the ACT dashboard in this tutorial, but the SAT dashboard is identical in setup, though obviously the content is a bit different.
The Home Dashboard Overview
When a student logs on, the Magoosh student platform will look like this: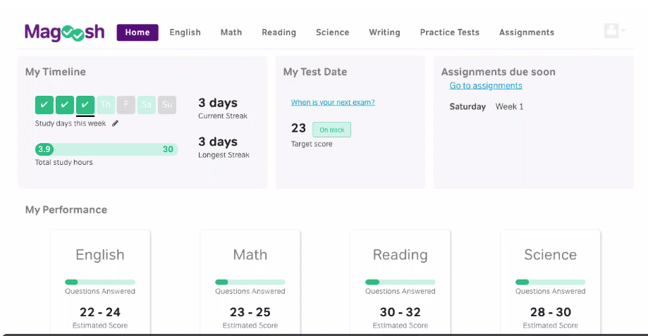 Here, students will see a general overview of all of their personal information including their practice streak, their performance in each test subject (based on practice questions completed), their test date (if they have one), upcoming assignments, and so on. Note that they will only see assignment due dates if you assign work to them.
From the toolbar across the top, students can toggle between the test subject sections, take practice tests, and view their assignments.
Students can also customize their study time and set text reminders to study from this page. Note that our dashboard is set to a 30 hour study benchmark that Magoosh has found through extensive research is a great predictor of success on the ACT and SAT.
Student Profile
In the student profile section, students can add their name, target score, test date, previous test scores, and more. A simple way to get to the student profile section from the home dashboard is by clicking "When is your next exam?" but it can also be accessed in the upper right corner.
This is what the student profile section looks like: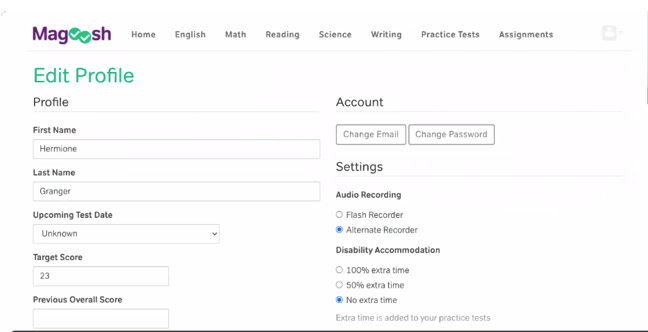 One of our favorite features of the student profile section is the disability accommodation that students with IEPs can set. This adds extra time to practice tests and gives students with accommodations an idea of what timing will look like on testing day.
Student Performance
In this section, students can track how they're doing based on practice test results. For each subject, in this case, English, Math, Reading, and Science, students will see that they are "on track" for that this particular area, or that it "needs work."
Tips and Strategies
Students can access various tips and strategies by simply scrolling down below the performance section. Tips and strategies are presented in video format and cover everything from pacing and guessing, subject-specific content, stress management techniques, and more.
The best part about these videos is that they are differentiated for students at every stage of the test prep process. They are also short and digestible, which helps significantly with student retention.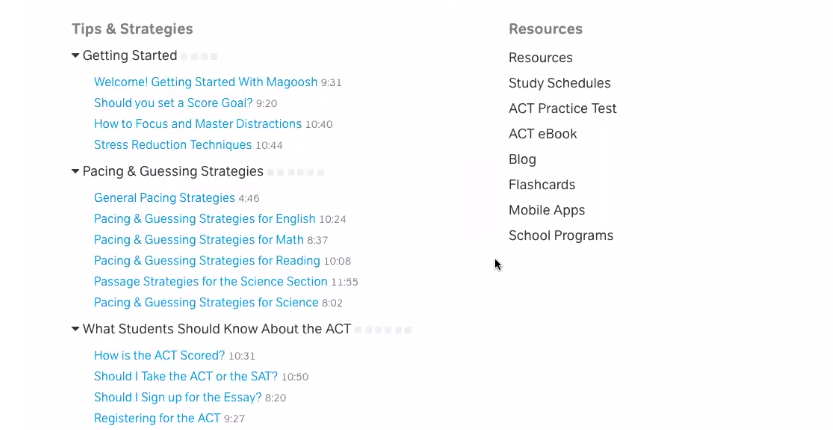 Practice Tests
Practice tests are one of the most important components of test prep our tests can be found on the navigation bar. Practice tests results populate estimated scores so a student can predict how they will do on testing day.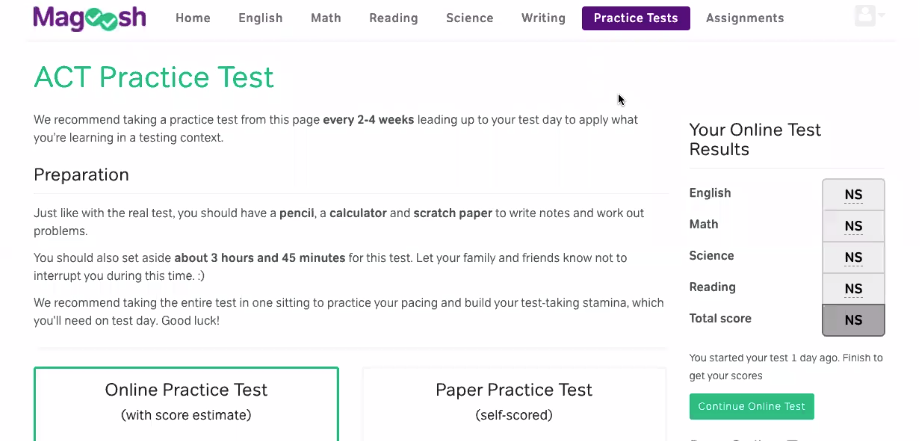 We realize that 3 hours and 45 minutes is a lot of time and that your students may not be able to sit for a full test often. We've created practice tests that allow students to segment out parts of the tests and come back to them later. Students can simply hit the "skip section" button and can resume testing whenever it is convenient.
Subject Sections
Students can return to individual subject sections to keep answering practice test questions, gauge their progress, and get additional help.
Subject sections are found on the top of the toolbar, for example, math: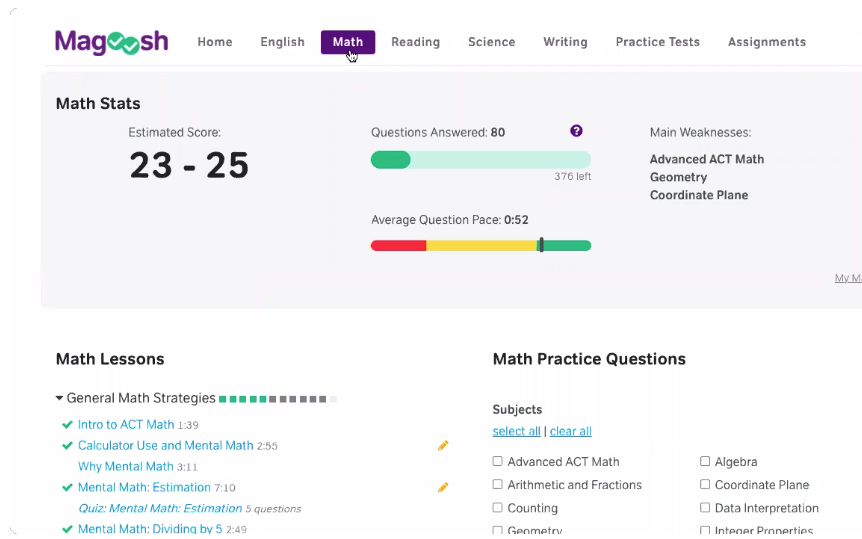 Note that the estimated score is based on the number of questions answered so far, so the score will change as a student completes more questions. Pacing is also tracked.
Using this data, Magoosh pinpoints areas of strengths and weaknesses, so students can laser in on the topics and types of questions that are hanging them up.
Once they've done that, they can choose section-specific video lessons (located right below their estimated scores) depending on where they want to improve. Videos are marked with a green check if they've been completed and with an eye icon if they've been viewed but not completed.
Students can also take notes to the right hand side of the videos, which is especially helpful if they have questions they want to ask you later.
Section-Specific Video Lessons
Here's a closer look at what a video lesson make look like: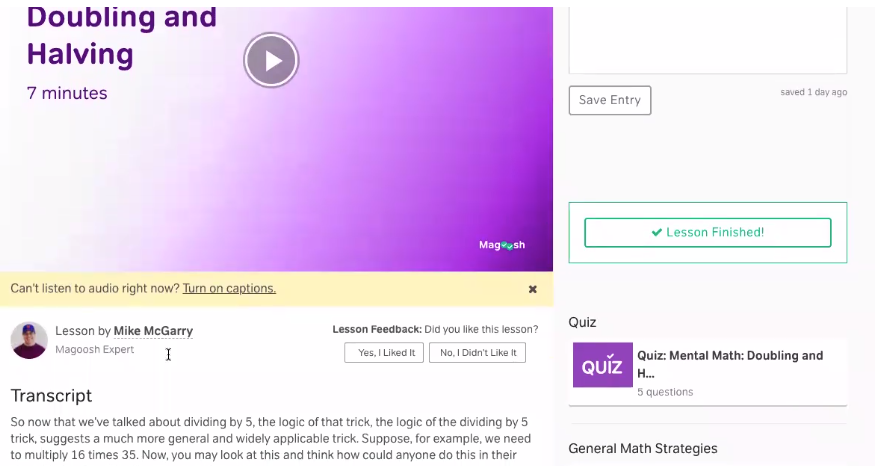 Note that all video lessons include captions (optional to turn on at the bottom of the screen), a full transcript, a section for taking notes, and short quiz on the content. The aim with these lessons is to accommodate a diverse range of students and leaners.
Subject-Specific Practice Questions
Note that the quiz questions that accompany video lessons are different from the practice questions that are included on each test subject page, which mirror the exact types of questions that will appear on testing day.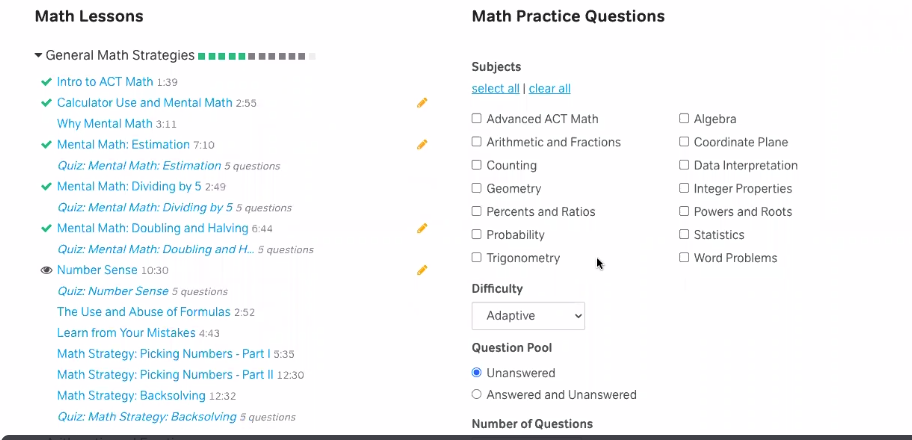 Students can choose the type of question they want to practice as well as the difficulty. They can also choose "practice mode," which shows the answer explanations after each question, or "quiz mode," which hides the explanations until the end. Here's an example of what a practice question looks like:

Students will see a timer at the top of the question which will help them stay mindful of pacing. They can also access a calculator or flag the question to review more thoroughly later.
The "passage tools" component allows students to highlight and take notes right on the question, which is particularly helpful for reading section questions.
Here's what the video explanation looks like upon answering a question: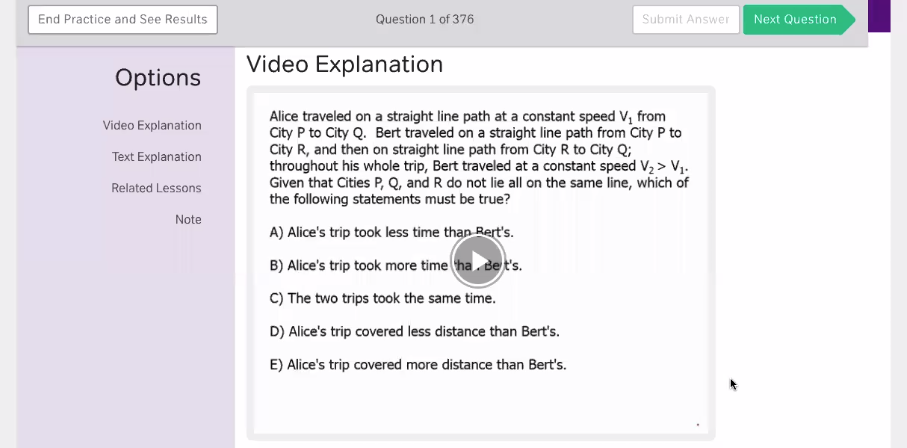 Below the video explanation, students will receive a text explanation as well as more related video lesson recommendations for further study. There is also a section to take notes.
At the end of a practice section, students receive a summary overview of their performance answering practice questions.
Magoosh Team Student Support
At any time in their practice, students can hit the "Help" button to report technical issues or ask specific questions about the material and content. The Magoosh expert team is here to help students work through any issues or questions they may have.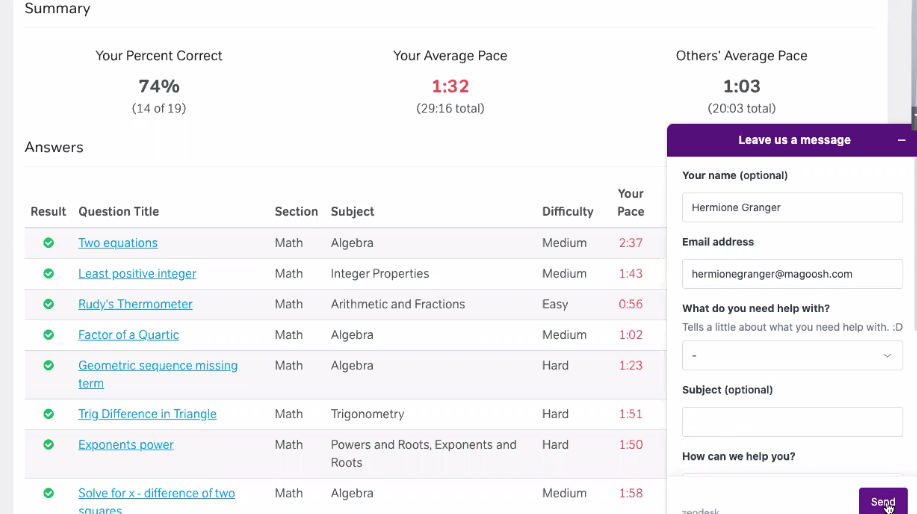 Resources
Finally, the student dashboard has a handful of valuable resources for students that they can access from the home page including: study schedules, practice tests, flashcards, the ACT eBook, our test prep blogs and more!
Our study schedules are particularly versatile, ranging from 3 days to 6 months om order to accommodate students at any stage of the studying process.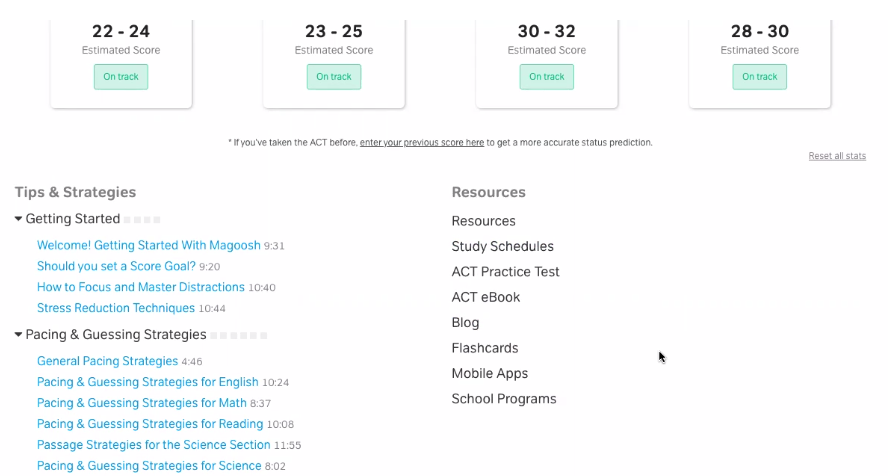 In Conclusion: The Magoosh Student Platform
We strongly encourage you to check out our most recent webinar about the Magoosh Student Dashboard and to share it with your students. We also want to remind you that our dashboard is available as a mobile app on both iOS and Android, and doesn't even require wifi, only mobile data -- so students can study pretty much anytime, anywhere, even for just 5 minutes at a time!