Student teaching. The very idea strikes fear into the hearts of many teacher education students. As they prepare for the moment that they take over the classroom or get observed by seasoned teachers, they can feel anxious about the difficulties that lie ahead. One way to overcome this anxiety is to be prepared. Here are some of the common student teaching difficulties and how you can prepare to handle them with ease.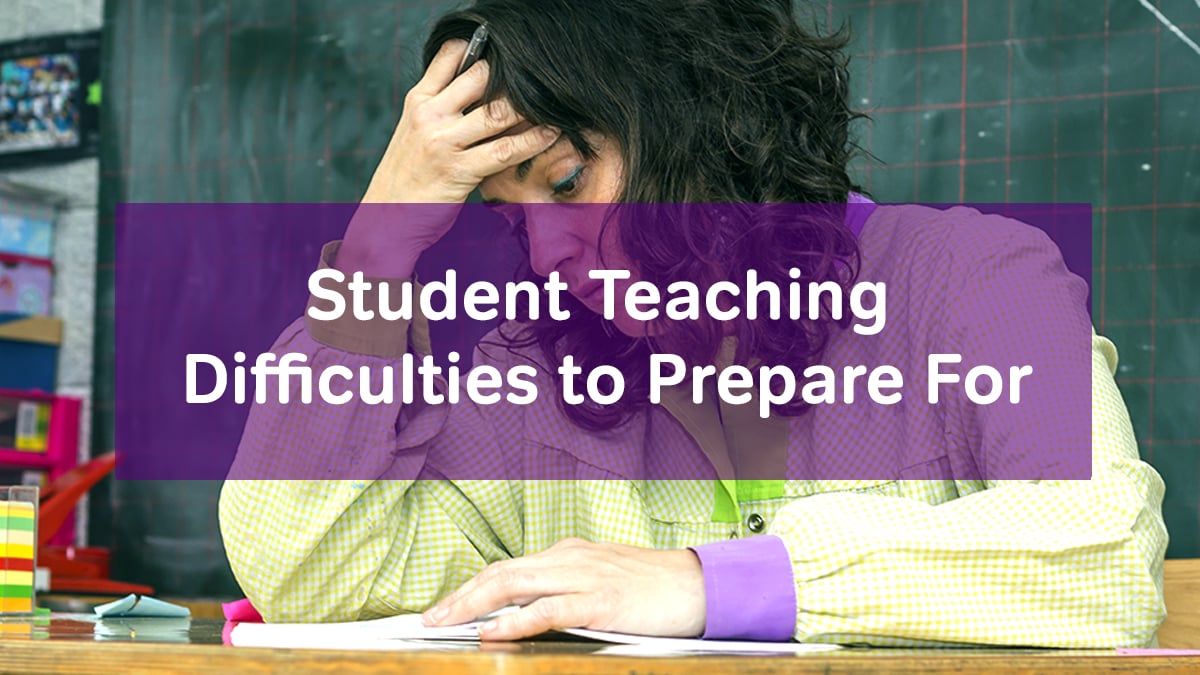 Difficult Students
In a perfect world (or classroom), every student would listen and obey everything that you say. No student would ever act out or do anything disrespectful. Unfortunately, a perfect classroom is rare–if not a complete myth. Therefore, you need to be prepared to handle difficult students through classroom management techniques.
Make a plan before student teaching begins. Set clear rules and be consistent. If a student is causing trouble, take them aside and talk to them one-on-one. Talk to your mentor teacher to get ideas on how to handle that student. Chances are that your mentor teacher had to figure out how to deal with that student too, and can offer some great tips.
Uncooperative Mentor Teacher
Of course, you hope you're placed with a mentor teacher who is happy to take on a student teacher and impart their wisdom to you. But sadly, some student teachers end up with a mentor teacher who hates the idea of giving up their classroom. If this is the case, be sure to stay in contact with your university supervisor. Let them know what's happening so they can help you determine the best way to handle the situation.
In the meantime, start the semester by looking for ways to help out and earn your mentor teacher's trust. They need to know that their students are in good hands with you. Try to find ways to appease your mentor teacher but look for opportunities to develop your own teaching methods and style, too.
Failed Lesson Plans
Write out lesson plans only after careful consideration and research. It might be helpful to have your mentor teacher go through the plans with you to point out areas that need improvement.
Even after all of your preparation and carefully thought out plans, it's possible that the lesson will still bomb in one way or another. Maybe students will finish quicker or slower than you thought. Or maybe they won't understand the information or find it as interesting as you do.
Whatever the case may be, you need to be ready to think on your feet and adapt the lesson as needed. Find ways to fill the extra time with review games, or use what you observed to prepare a lesson for the following day to help students better understand the information.
High school and middle school student teachers have an advantage when it comes to failed lessons. You can adapt the lesson throughout the day to find the best way to make it work for your students. However, you don't want to leave your first period students in a lurch day after day! So you should still work hard to prepare lessons that will help your students learn the information.
Irate Parents
Parents can be intimidating. And sometimes it's hard to know how to deal with parents, even for a seasoned teacher. However, they can also be your biggest asset to help your students. Whether a parent is upset that their child has a student teacher or they're upset about something that you did or said in class, it's important to handle the situation with panache. Be humble and look for ways to work with the parent. And hopefully, your mentor teacher will help you with any difficult situations.
Honestly, I hope you face these student teaching difficulties and others. I hope you're stretched beyond what you thought you were capable of doing. I hope you have hard moments that you have to work through. When you face these challenges, you become a better teacher in the end.
Student teaching is meant to have its ups and downs—its challenges and difficulties. Because through these moments, you get to put your teaching skills and methods to the test and figure out how you can handle these moments when you're on your own. Don't let difficult moments get you down or scare you from the experience. Instead, embrace the challenges and face them head on. You'll find that you're a better teacher for having dealt with what you once thought you couldn't handle.