Student teaching can be an extended job interview. If you're interested in working in the school or school district, you should strive to make a great impression. One thing that you can do before you even start is write a student teaching letter of introduction to the principal. To do this, follow these steps and tips.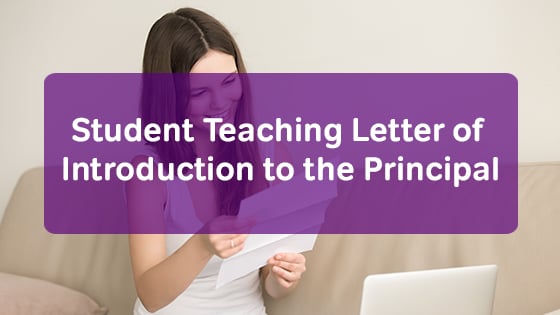 Address the Principal
Rather than address your letter to "Whom It May Concern," take the time to find out who the principal is at the school where you'll be teaching. You can find his or her name on the school or district website. Then, start the letter by saying "Dear Mr./Mrs./Miss ___________" or "Dear Principal _____________."
Introduce Yourself
Use the letter to introduce yourself to the principal. Don't just come out and say "Hi! My name is __________, and I like ____________." Show the principal that you're a stellar writer. Let the principal know that you'll be student teaching at the school.
Discuss some of your credentials, too. Where did you go to school? What work opportunities or volunteer experiences did you complete to prepare you for this opportunity? Discuss those things that make you a great teacher candidate to have at their school.
Don't Forget to Proofread
When you're looking to make a good impression, the last thing you want is a bunch of errors. Take the time to read through your letter. Check for spelling, grammar, and punctuation errors. It would be wise to have a few other people read through it to check for errors too.
Keep It Concise
Principals keep pretty busy. With the amount of things they have to do and read, they don't have time to read a long letter. Rather than pack in everything that you want to say, try to keep your letter short and concise. It shouldn't be longer than one page. Really you should be able to say everything that you need to say in a couple of paragraphs.
Make It Professional
Don't forget formatting. Your student teaching letter of introduction to the principal should have a letterhead or address at the top, as well as the date. At the end of the letter, use sincerely, yours truly, or something similar. Type your name, but leave plenty of space to sign the letter too.
Send your student teaching letter of introduction to the principal several weeks before starting. Then, follow up by introducing yourself to the principal in person in the first few days of being at the school.
If at any point your student teaching starts heading in a negative direction, there are some things that you can do about it to set it on a positive course before your time is over. If all went well, then it's also a good idea to send a thank you letter to the principal. Let him or her know that you had a great experience and would love to work at the school should a position open up for you. You never know. Your letter just might be the thing to help you land your first teaching job.