As you progress in your education degree, you'll hear two important terms: student teaching and practicum. These are two different types of field work. You'll do your practicum before you do any student teaching. So let's take a look at that first.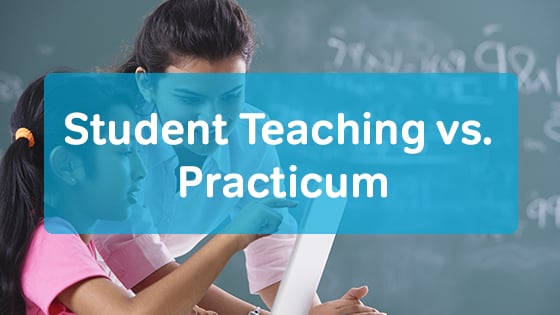 What Is Teaching Practicum?
Practicum refers to experiences that teacher trainees have in the classroom before they take on the full range of responsibilities required for student teaching. Practicum teachers partner with a professional teacher who directs their activities and gives them feedback on any work they do.
How Is Teaching Practicum Structured?
Teaching practicum activities are usually part of a university class. Commonly, a college course on teaching methodology will include regular university course lectures, textbook readings, homework assignments, and visits to local K-12 schools for practicum. The practicum requirements for a teaching methodology course will be fairly concrete. A specific number of hours will be required, usually in a specific type of classroom (an elementary school homeroom, an ESL classroom, a physical education class, etc.).
Other aspects of practicum experiences vary a lot. Different courses have different requirements. And university teacher education programs take different approaches to arranging practicum as well. A practicum could be as short as a few hours in a semester, or as time-consuming as 15-20 hours a week. Practicums can involve one cooperating professional teacher or multiple cooperating teachers. And they can take place at one school or more than one school.
In most practicum experiences, education majors will do a combination of observation and classroom assistance. At times, they will simply watch the class, record their observations, and ask questions to their cooperating teacher outside of class time. At other times, practicum teachers will actively help their cooperating teacher, working directly with the students. They may even teach a few lessons themselves, with a professional teacher–and perhaps also a faculty member from their university–present in the classroom to supervise them and give them feedback.
What Is Student Teaching Like Compared to Practicum?
Student teaching is much more involved and hands-on than a practicum. In rare cases, student teaching may include some observation in the early days of the experience. But for the most part, student teaching requires a teacher-in-training to take on all of the responsibilities of a professional teacher. Student teachers lead the class and perform out-of-class duties such as lesson planning, communicating with parents, and attending meetings of the faculty and PTA.
While practicum is part of a university course, student teaching is a university course. Students majoring in education register for their student teaching experience through the university's regular course registry system, and they receive a course grade at the end of the experience.
Why Do Universities Require Both Student Teaching and Practicum?
There is nothing quite like really teaching. Actually being in a K-12 classroom and working with kids is full of unexpected joys and challenges that are almost impossible to describe secondhand. No amount of theory, course lectures, or textbook readings can truly teach someone what to expect once they get to the classroom.
The administrators of teacher training programs know this. So they create practicum experiences to help students discover the real K-12 environment for themselves. Once a student has completed enough practicum, they'll be ready to dive into the full teaching experience, first as a student teacher and eventually as a fully licensed new teacher.