Teaching salary by state is an important factor in your career decisions. To make a truly informed choice, look at both starting and long-term pay. Also look at cost of living.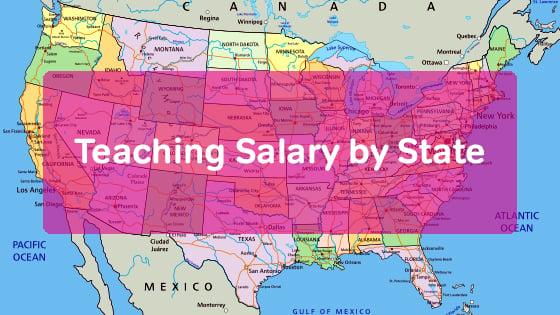 In this post, I've broken down all three of these factors for you. First, let's look at the raw numbers.
Teaching Salary by State: The Top 10 and Bottom 10 for Entry-Level Pay
The following figures show the states with the 10 lowest and 10 highest yearly salaries for starting teachers. This information comes from the National Education Association.
Entry-Level Teaching Salary by State: The Top 10
Washington, DC: $51,539
New Jersey: $48,631
Alaska: $44,166
New York: $43,839
Wyoming: $43,269
Maryland: $43,265
Connecticut: $42,924
Pennsylvania: $41,909
California: $41,259
Hawaii: $41,027
Entry-Level Teaching Salary by State: The Bottom 10
Montana: $27,274
South Dakota: $29,851
Missouri: $30,064
North Carolina: $30,778
North Dakota: $30,844
Idaho: $31,159
Mississippi: $31,184
Maine: $31,385
Oklahoma: $31,606
Arizona: $31,874
Teaching Salary by State: The Bottom 10 and Top 10 for Teaching Salary Overall
Next, we'll look at statewide teacher pay averages for all teachers — first year teachers as well as more experienced ones. This can help you get a feel for your long-term prospects in a given state. The source for these numbers is the National Center for Education Statistics.
Average Overall Teaching Salary by State: The Top 10
Washington, DC: $70,906
Connecticut: $69,766
California: $69,324
New Jersey: $68,797
Alaska: $65,428
Maryland: $65,265
Pennsylvania: $63,521
Rhode Island: $63,474
Michigan: $61,560
Delaware: $59,679
Average Overall Teaching Salary by State: The Bottom 10
South Dakota: $39,580
Mississippi: $41,994
Oklahoma: $44,128
North Carolina: $45,847
West Virginia: $46,405
New Mexico: $46,573
Arkansas: $46,632
Florida: $46,944
North Dakota: $47,344
Kansas: $47,464
Teaching Salary by State: The Top 10 and Bottom 10 for Teacher Salary Growth
Comparing average teacher pay to entry-level teacher pay can give you a more complete picture of teaching salary by state. However, it's important to remember that long-term teacher earnings depend on two very unpredictable things: the economy and politics of a given state.
The same NCES study I referenced above also records each states' changes in average teaching salary between 1999 and 2013. Some states have actually shown a decrease in average teacher pay over the last 15 years or so, while other states have shown an increase. The percentage increase or decrease in teacher pay for each state can give you an idea of the salary growth — or lack thereof — that you might see over time.
Percentage Growth in Teaching Salary by State Since 1999: The Top 10
Wyoming: +24.2%
North Dakota: +16%
Massachusetts: +14.9%
Montana: + 13.9%
Louisiana: +13.6%
Washington, DC: + 10.2%
New York: +8%
New Hampshire: +7.8%
Nebraska: +7.7%
California: +6.4%
Percentage Growth in Teaching Salary by State Since 1999: The Bottom 10
North Carolina: -14.7%
Indiana: -10%
Michigan: -82.%
Texas: -6.3%
Virginia: -5.8%
Georgia: -5.7%
Washington: -4.5%
Alabama and Colorado: Tied, both with -4.4%
Pennsylvania: -3.8%
Mississippi: -3.5%
Cost of Living by State
You may have already noticed that the states with the highest starting teacher salaries have a higher cost of living than the ones in the "bottom 10" lists. Cost of living by state is a very important consideration when you look at the "real" salary of teachers in different parts of the US.
So here is one last set of top 10 and bottom 10 lists for you to consider: the 10 least and most expensive states to live in (source: the Missouri Economic Research and Information Center).
Cost of Living: The 10 Cheapest States
Mississippi
Indiana
Oklahoma
Arkansas
Alabama
Tennessee
Kansas
Kentucky
Nebraska
Georgia
Cost of Living: The 10 Most Expensive States
Hawaii
Washington DC
Massachusetts
California
New York
Alaska
Connecticut
Oregon
Maryland
Vermont
Teaching Salary by State: Analyzing All the Data
To really understand whether a state offers a good teacher salary, you need to look at entry-level teacher pay (see the NEA page), average overall pay (NCES), long-term salary growth (NCES again), and cost of living (MERIC).
An ideal state for teacher salary is one with high entry-level teacher pay, high average teaching salary, robust growth in teacher salaries, and a low cost of living. Based on that data, Wyoming really stands out as a great state for teacher pay. It's number 1 in teacher salary growth since 1999, has the fifth highest entry level pay for teachers, and is in the top 20 for highest average teacher salary and lowest cost of living.
Other parts of the US can be a mixed bag. D.C., for example, has high teacher pay and healthy growth in teacher salary, but also has one of the highest costs of living in America. Hawaii is number 10 for teacher pay, but number 1 for high cost of living, and it has mildly negative growth in teacher pay (-2.1% since 1999). If you're trying to choose a state to teach in or trying to figure out exactly how well your home state pays its teachers, look at the sources I provided in this post and compare the numbers carefully.