It's no secret that testing can be a costly enterprise for students. Even if a student forgos pricey tutoring, the cost of the test itself can be a burden. In an effort to level the playing field, there is a resource available to students from low income backgrounds - the ACT fee waiver.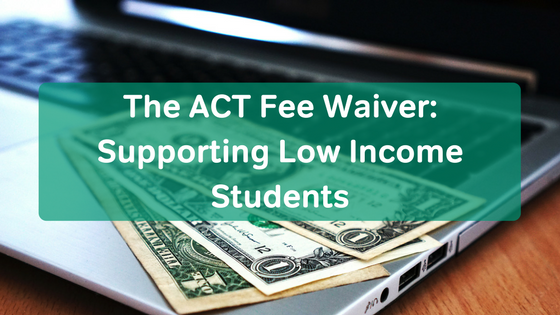 Every year, the ACT issues fee waivers that help students in need of financial assistance cover the cost of the test. However, these waivers can only be obtained through the student's school, which is why it's so important to have this information handy.
What is the ACT fee waiver and what does it cover?
The ACT fee waiver eliminates the $46 (no writing section) or $62.50 (with writing section) ACT fee for economically disadvantaged students. Eligible students can get up to two fee waivers, allowing them a retake if they want to improve their scores after an initial test.
Once ACT fee waivers are given out to schools, that is the number they get for the year. This means once they are used up by students, they will not be replenished until the following year. If a student misses out on a fee waiver, they'll have to wait until another batch has been distributed, which happens during the summer. The number awarded is based on the number of ACT Fee Waivers used the previous school year.
The ACT Fee Waiver covers the complete cost of the ACT, with or without the writing component, as well as one score report to the high school and up to four colleges of the students choice.
What
Doesn't
the ACT Fee Waiver Cover?
The fee waiver does not cover any late fees ($29.50) or registration changes such as changing a test date or location ($26).
The ACT also will not cover the cost of ACT reports sent to more than four colleges ($13 per report).
And most importantly, each ACT fee waiver only covers ONE ACT test date. If students miss their testing date, the waiver cannot be reused, and they must instead apply for a second waiver. If the school has run out, they will have to wait for the following school year (assuming they are a Junior and not in their final year of high school.)
Act Fee Waiver Eligibility Requirements
Students who qualify for the ACT fee waiver must meet all of the following requirements, without exception:
Be enrolled in high school and in grades 11 or 12

Be a citizen of the United States (or testing in the US, US territories, or Puerto Rico)

Qualify for economic need based on one of the following:

Is enrolled in a program for the economically disadvantaged such as Upward Bound or GEAR UP

Is homeless, in a foster home, or is a ward of the state

Is currently living in federally subsidized housing or receives low-income public assistance

Is currently living in a household with a total income at or below the USDA levels for free or reduced lunch (see chart below)

Is enrolled in a free or reduced price lunch program based on federal income brackets (see chart below)
| | |
| --- | --- |
| Members in Household | Total Annual Income |
| 1 | $22,311 |
| 2 | $30,044 |
| 3 | $37,777 |
| 4 | $45,510 |
| 5 | $53,243 |
| 6 | $60,976 |
| Each additional member | $7,733 per member |

It is worth mentioning that financial need can be a difficult subject matter to discuss directly with students, so don't be afraid to check in with your administration for clarification on which students may qualify.
Things to keep in mind
In order to ensure that fee waivers go to the appropriate students, the ACT has strict guidelines both schools and students must follow. While you likely have a million things to keep track of already, it's important to keep an eye on your school's ACT fee waivers ars well.
In the summer, look for your fee waiver forms to get sent to your school from the ACT board. The number of forms you'll receive is based on last year's usage, so it's important to know if there are any significant differences between the classes- you may need to plan to ask for additional waivers.
Once students return in the fall, begin advising them about prep, including the cost of the test. Students with limited economic means will need to submit their forms at this time. When your students have committed to a specific test date, ensure that they follow through with test-taking since those waivers are limited!
Ideally, you'll be able to give out the majority of your waivers with enough advance planning, leaving you time to apply for more if you need them. Getting these out of the way also leaves you time to help students with other waivers, such as the Request for Waiver or Deferral of College Admission Application Fee form. Unlike the ACT fee waiver, this form can be used as many times as a student likes.
Above all, encourage your students to come talk to you if they believe they are in need of financial assistance. Many students may be shy to speak up in class, but making yourself available for one-on-one discussions can help ease the conversation. After all, the fee waiver is designed to level the ACT testing field across students from all economic backgrounds.