The National Education Association and the U.S. Department of Education both report that alternative paths to teacher certification are on the rise. More and more, paths to certification that do not resemble traditional degree programs are opening up as options. So first, decide if you really want to go into teaching, and then you may want to take a look at some of the programs discussed below.
Alternative certification programs are typically less demanding than traditional degree plans that lead to a teaching license. And in most cases, they also allow teacher-trainees to teach full time with salary while earning their license. This makes them especially appealing to those who want to teach but aren't able to go back to school full-time. Alternative certification is also an attractive option for individuals who would like to try out teaching and see if it's right for them.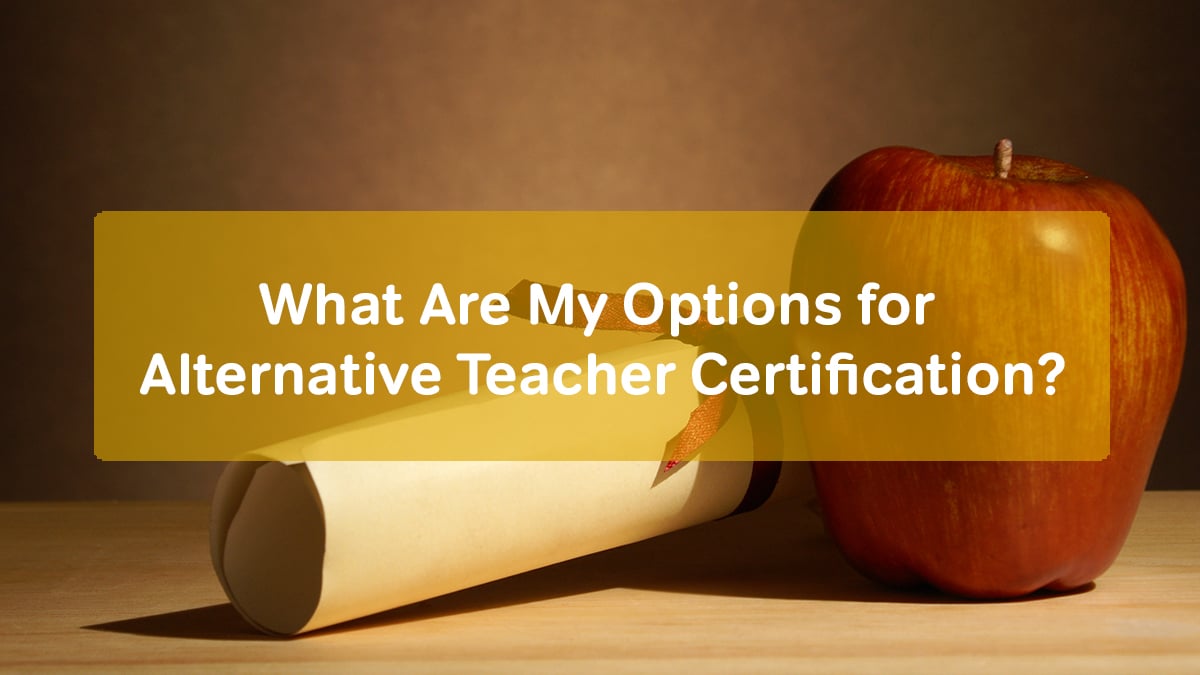 National Alternative Certification Programs
In a sense, the only truly national teacher certification program in the United States is Teach for America. This is because only Teach for America has the ability to place program participants in any state where TFA operates. If you apply to TFA, you can be placed anywhere. You can list multiple preferences for where you want to teach. You can also potentially be placed in a state other than the one you requested.
There are a handful of other alternative certification programs that operate in multiple states. However, other programs make you choose just one state and receive training that is specific to that state's standards. ABCTE and iTeach have a common base of online coursework for the multiple states they operate in. But they require different field experience (class observations and student teaching) depending on the locale that a program participant chooses. And The New Teacher Project actually has a completely different application process. It also has completely different training locations, and distinctly different coursework for its eight different local programs.
State and Local Alternative Certification
Many alternative certification programs are actually specific to just one city. The Academy for Urban School Leadership provides alternative certification to teachers in Chicago. Other prominent city-level alternative certification programs include Denver Teacher Residency, the Los Angeles-based Urban Teacher Residency, and several different alternative certification programs offered in New York City.
There are some state-level programs as well, although they tend to be regionally focused. The Mississippi Teacher Corps certifies and places teachers primarily in the Mississippi Delta Region. Wisconsin's NORDA alternative certification program tends to work more with rural parts of the state (although suburban and urban placements are also possible).
Alternative Certification via Non-University Programs
In many instances, the teacher training you receive via alternative certification will not take place in a university. Instead, you'll receive training from a non-school agency, usually a private company and sometimes a government office. ABCTE and iTEACH, mentioned above, are two typical examples of private, web-based alternative certification instruction. Other organizations such as The New Teacher Project offer blended (online and offline) coursework and limited partnerships with local universities that do not lead to university course credits or degrees.
Government programs such as the state of Texas's Project Pace and the Oklahoma Alternative Placement Program for Teacher Certification. Some state-sponsored programs come with legal limitations. In Arizona, for example, a teaching license gained through the state-sponsored Teaching Intern Pathway to Certification cannot be used for more than two consecutive years.
In any case, non-university programs like these do include university course, certificate, or degree equivalency components in their training. As such, certification through this kind of coursework does not easily transfer to other school districts or out-of-state positions.
Degree-Based Alternative Certification
Getting alternative certification and getting a teaching degree do not have to be mutually exclusive. Many alternative certification programs lead to an accredited teaching degree, or post-baccalaureate certificate from an accredited university program. In such cases, the credential you receive is as valuable as a traditional degree, in terms of its portability to new teaching jobs and locations in your future career.
NORDA, the Wisconsin program mentioned above, is an interesting case. NORDA alternative certification participants have the option to earn college course credit and a post-baccalaureate certificate through St. Mary's University of Minnesota. However, participants in NORDA's programs can also choose to complete their training without getting any university credit; and this second option is cheaper.
The Denver Teacher Residency and the Mississippi Teacher Corps offer a more conventional approach to degree-based certification. Like a number of other degree-granting alternative certification programs, DTR and MTC grant a Master's in Education to successful participants. The Denver and Mississippi programs offer these graduate degrees through partnerships with the University of Denver and the University of Mississippi, respectively.
When a Bachelor's, Master's, or post-bac is earned through alternative certification, the coursework generally has a greater web-based component and more scheduling flexibility than a traditional degree would. But the end result is the same: a degree-based teaching certificate that is just as well respected as other traditional forms of certification.