As high school teachers, we often reference the College Board as our students prepare for the next stage in their academic careers. But who is this elusive group of people and what exactly do they do?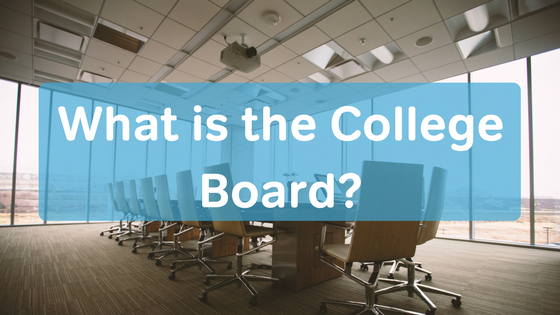 If you've been pondering these questions, or just had a passing curiousity, you're in luck! We're going to break down who makes up the College Board, and explore how it shapes the way a student applies to college!
Who makes up the College Board
According to their website, the College Board, "is a mission-driven not-for-profit organization that connects students to college success and opportunity." Doesn't tell us a whole lot, does it?
Taking a further look into the College Board, we can see that there are two parts to the organization: members and staff. Let's start with the more straightforward of the two: Membership.
Members
Membership to the College Board is relatively simple - institutions apply and are accepted as members on an ongoing basis. There are currently over 6,000 high schools, colleges, and universities that are approved members of the College Board. These members have applied for, and been approved by the College Board based on criteria such as their work with students, accreditation status, and importantly their"regular and substantial use of one or more College Board programs and services."
Membership is granted to institutions at the cost of $400/year, and gives all members of the participating institution access to the College Board benefits. These include events, workshops, and a directory of members. Essentially, membership to College Board confirms a school's status as a legitimate educational institution, at very low cost, but with relatively light benefits as well. Unless you or your colleagues are actively participating in College Board events, it's unlikely this is a part of the College Board that has a big impact on your professional life.
Staff
When thinking about the College Board, particularly as it relates to standardized testing, you're likely referring to the staff side of the organization. Based in New York City, the organization also has regional offices throughout the country, and employs thousands of people to help run the organization and create the content for a range of standardized exams.
Employment with the College Board ranges from conducting and publishing research, to sales and marketing, to creating the questions that students see on various standardized tests. While the College Board's primary focus is on standardized tests, they also provide academic support tools and services (related to college preparation, admissions, recruitment, financial aid, and retention) to both families and academic institutions.
What the College Board does
Members
College board membership is open to educators from all areas of academia. As mentioned earlier, there are benefits to joining the College Board, but the central purpose is finding a community of like-minded individuals within education. As a member, you are demonstrating your commitment to educational advocacy and policy reform as you strive to better serve college-bound students.
Because the College Board is a non-profit, it is led by a Board of Trustees. These leaders are members of the organization that have been elected by their fellow members. This board determines the direction of the organization, is responsible for overseeing the budget priorities, and advises the staff as necessary. This is just a quick outline though - you can read more about how the College Board is governed here!
Staff
As with any large organization, it's impossible to lump all employees into a single category with regard to what they do. However, there are a few main areas that the College Board focuses on. Their primary purpose is likely what you know them for best- creating standardized tests that allow students and colleges to establish baselines of knowledge in different subjects.
However, this is simply one piece of their work. In addition to creating these tests, College Board partners with schools and districts to sell their test-related products, promote professional development and community workshops, and collect data on student performance that they can then use to improve the existing tests, as well as inform the conversation on accessible education.
Tests Created by the College Board
The college board creates and administers the following tests:
SAT and SAT Subject Tests - Standardized tests used for college admissions in the United States.
PSAT/NMSQT - Refer to this standardized test by either of its acronyms! The Preliminary SAT (PSAT) is used as practice for the SAT, and also acts as a National Merit Scholarship Qualifying Test (NMSQT).
AP Exams - Advanced placement (AP) programs are used to offer college-level curriculum in various subjects to high-achieving high school students. The tests College Board designs are used to measure whether a student has truly learned enough in these classes to warrant college credit.
CLEP - The College Level Examination Program is used to assess college-level achievement through curriculum implemented in undergraduate programs.
Accuplacer - A computer-based test used to assess reading, writing, and math skills in high schools and colleges.
SpringBoard - A program used to prepare students for Advanced Placement courses or college courses.
College Board Criticism
As with any organization that is involved in educational access, the College Board has had its fair share of criticism. Topics that have sparked the ire of educators and students alike include the 2016 redesigning of the SAT as well as the relatively narrow curriculum requirements for AP courses.
The main criticism currently faced by the College Board centers around the high cost of testing. The idea behind testing in the first place is that it measures student's academic performance, and academic performance only. It should be income agnostic. However, the high stakes nature of these tests means that students will often retake them, and pay for expensive test prep which can give them an edge on these exams. Both the retakes and the prep are costly, thus creating a division between the students who can afford the extra boost from prep and retakes, and those who cannot. This is especially problematic when we look at the fact that College Board is a nonprofit, and that its tests are so integral to a high schooler's college application. While the idea of testing is to level the playing field by showcasing a student's academic prowess, these expensive tests can put students from lower socioeconomic backgrounds at a disadvantage.
Regardless of you perspective on the College Board, it isn't going away any time soon, so it's beneficial to know a bit about them. As always, you are teachers are on the frontlines of helping your students prepare for college and familiarizing yourself with the College Board and its tests and programs may help you do so.