So, you're thinking about becoming a teacher. Before taking the plunge, here are 10 things that you should know.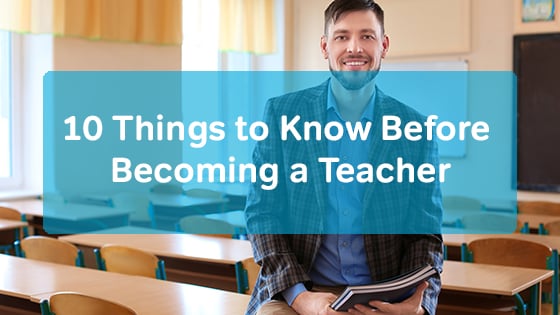 Time Commitment
In most jobs, people clock out at the end of the day, head home, and do whatever they want to do. As a teacher, you clock out at the end of the day and head home to start preparing for the next day.
As an effective teacher, you spend the day focusing on the needs of your students. Then when the bell rings at the end of the day, you work on lesson planning, grading, professional development, and school extracurricular activities.
If you're going to become a teacher, it's important to understand the time commitment that you'll need to make to become an effective teacher. Know that it's not just your typical 9-to-5 job.
Salary
Teacher salaries tend to be on the lower end, but the actual salary varies based on your education and the state and district in which you work. Do some research to discover the best salary teaching available near you. Remember that some teachers make up for the lower salary by teaching summer school or finding other summer jobs.
It's also important to note that many teachers end up paying for classroom supplies out of their own pocket. If the school district doesn't supply you with the things that you need, you could end up spending up to $1,000 per year on classroom supplies. Finding grants for classroom supplies can help offset some of this cost.
First Year Struggles
Statistics show that 17% of new teaches quit within the first few years of teaching. Yes, the first few years can be rough. However, you're going to work hard and learn a lot. Don't base your entire teaching career off your first year. It might take some time to figure things out, but things get easier as you gather lesson material and learn best practices to use in your classroom.
Parents
Parents can be incredibly helpful. They can be a great asset to help you reach their children. On the other hand, parents can also add to your stress. You're going to have parents who just don't agree with how you do things. Rather than letting them impact your decision to teach, turn to other teachers and administrators for support to determine the best way to handle parents in a positive manner.
Continuing Education
Your learning is never over when you're a teacher. You don't step off the stage with your diploma in hand, knowing everything that you need to know. As a teacher, you need to immerse yourself in continuing education opportunities to gain more knowledge. This is especially true when it comes to technology. As technology advancements take place, teachers need to know how to incorporate them in their classroom.
Flexibility in Opportunities
You might have a good idea of what grade you want to teach. It might be difficult to find your dream position, especially when you're first starting out. Rather than looking for a position in that grade alone, be open to the possibility of other grades. If you're flexible in the positions that you're looking for, you'll have an easier time finding teaching positions.
Skills
There are lots of important skills to possess as a teacher. Developing these skills is beneficial. So, what are some of these skills? Some of them include time management, organization, critical thinking, and patience. If you don't already possess these skills, take the time to identify and develop them now.
Preparation
Preparation is one of the most important things to remember when it comes to teaching. You should plan on creating daily lesson plans. Fortunately, there are lots of great Internet resources you can use to help you. However, it's important to be flexible to best help your students.
Respect
You won't just show up on the first day and have the respect of your students. The truth is that you're going to have to earn their respect. Of course, it's a two-way street. Your students are going to have to earn your respect, too. Just be aware that this process takes time sometimes.
Reasons for Teaching
Why are you thinking about becoming a teacher? What influenced your decision? What do you hope to accomplish? Why did you choose that particular grade or subject? Make sure that teaching is a profession that you can see yourself doing for the rest of your career.