Let's face it. It's very hard to get a teacher certification without putting your life on hold at some point in your training. Even with flexible online degree options and alternative certification programs, the fieldwork and student teaching requirements are very time consuming. It's quite difficult to balance a full-time "day job" with all of these requirements.
So for many, the most desirable teacher training program isn't one that's more flexible than others… but one that's faster. The sooner you can complete your teacher training and receive your certification, the sooner you can rejoin the workforce in a rewarding new career.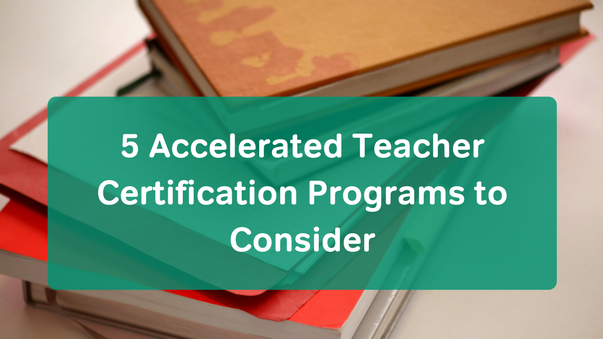 If you already hold a bachelor's degree and want to become a teacher as quickly as possible, accelerated teacher certification may be right for you. Accelerated Teacher certification programs are designed so that teachers-in-training can earn their credential in a minimum amount of time. The pace can be pretty intense, but this kind of program can take months and even years off of your path to licensed teaching.
In this post, we'll look at several accelerated teacher certification programs you may want to complete.
American Board Alternative Certification
The American Board accelerated teaching certification is a teacher certification program offered through the U.S. Department of Education that takes place entirely online. Candidates have 12 months to complete the program, though the average amount of time it takes most users is between 7 and 10 months. Upon completion of this program, you'll be eligible to teach in Arizona, Arkansas, Idaho, Missouri, Oklahoma, South Carolina, Utah, Florida, Mississippi, New Hampshire, Pennsylvania, or Tennessee.
Keep in mind that if you want to teach in a different state than those listed above, the 7-10 month training length estimate does not necessarily include the time it takes to meet state-specific testing and fieldwork requirements. You'll most likely also need to prepare for and take the Praxis exams, and complete up to four months of in-state student teaching (depending on which state you want to be certified in). Nevertheless, the American Board Alternative Certification is a fast way to get licensed and eligible to teach in many different parts of the United States.
A bachelor's degree is required for acceptance into the American Board teaching certification program, and participants must pass a background check. Candidates enrolled in the program study for and take two certification exams—one that covers Professional Teaching Knowledge (PTK) and one that covers subject area knowledge.
The program is online,[8] giving candidates the flexibility to work towards earning their certification on their own time. Once candidates earned their certification, they will receive their Passport to Teaching.
The University of Connecticut's teacher Certification program for College Graduates
UConn's TCPCG is a highly accelerated master's degree program:
Candidates in the program earn Connecticut Teacher Certification and an MA in Curriculum and Instruction or Educational Psychology (Special Education students)
While it's not uncommon for a Master's in Education to take 2-3 years, TCPCG takes just 11 months to complete—including all fieldwork and student teaching.
TCPCG is a full-time program; no part-time options are available
New cohorts begin every summer at all three campuses
The program involves 4 consecutive semesters of coursework: Summer Session I, Summer Session II, Fall Semester, & Spring Semester
Classes cannot be completed online and must be taken full-time. The Teacher Certification Program is a part of the Neag School of Education, with programs operating out of three regional campuses: Avery Point, Downtown Hartford, and Waterbury. The end result is a Connecticut teaching credential that is easily transferable to many other states.
Licenses are restricted only to certain content areas, but this program does cover a lot of different concentrations. Program offerings including licenses in common certification areas such as English, Math, Science, and Special education. Certificates in specialty subjects are available through the program as well, with licensure options in Agricultural Education, French, and Physics, among others.
Edgewood College's Accelerated Secondary Education Teacher's License
Edgewood's accelerated secondary program (ASP) is similar to the one at the University of Connecticut; Like TCPCG, this accelerated option cannot be completed online. Classes are offered face to face in the evenings and incorporate both in-person and online features. And much like Connecticut, Edgewood's host state—Wisconsin—offers a well-respected state-level license that transfers easily to other parts of the U.S. Again, both general subject area certifications (English, Math, Science, etc…) and specialized ones, (Economics, Spanish, others) are potential options.
ASP is well suited for candidates who want to become certified to teach in middle and high schools. Edgewood's program offers a license sequence for individuals wanting to teach mathematics, science, social studies, and English, and is geared specifically towards:
Working adults & career changers
Recent college graduates interested in teaching
Emergency-Licensed (Tier 1) teachers already working in schools
The 22-credit initial license sequence can also be used to build towards a full 34 credit Master's of Arts in Education.
Western Governor's University Teaching College
WGU does not advertise any of its 17 online teacher certification programs as "accelerated." However, WGU's teaching degrees and post-baccalaureate certification programs are completely self-paced. Because of this, it is possible and common to complete WGU's programs very quickly, with potential for reaching licensure and even a Master's in Education in less than two years and as little as just one year. It's even conceivably possible to complete some of WGU's post-baccalaureate programs in less than a year, although this is not the norm for WGU's students.
WGU's teaching certification will qualify you to work in any of the 50 states, and a variety of programs are available based on your specific career interests, including:
The University of Southern California's Master of Arts in Teaching
USC's Rossier School of Education is a highly respected source of teacher training and teaching research, both in the U.S. and abroad. The teacher training program at this top California school is home to many highly accomplished professors, including the famous education theorist Stephen Krashen, whose findings on education are taught in many education departments worldwide.
While many USC programs are very difficult to enter, pay for, and complete, USC makes an effort to make its Master's of Arts in Teaching (MAT) inclusive, affordable, and flexible for applicants. Teachers who are accepted into this program may take all of their courses online or in-person at USC's Los Angeles campus. USC and its benefactors extend scholarships to accepted Master's candidates, and students in this program may complete the Master's degree and gain teaching licensure in California and other states is as little as one year.
USC Rossier's MAT course will lead to a California Preliminary Teaching Credential in Multiple Subjects (Elementary) or Single Subject (English, Math, Science, or Social Studies). With additional coursework, you can also pursue a Special Education Credential, Gifted Certificate, or Bilingual Authorization for Spanish Certificate.
The MAT degree is offered at the USC City Center campus in downtown Los Angeles or online.