Educators have discovered that exams aren't the best form of assessment for every student. This is especially true with kindergartners. At this stage, students are on such different levels and have different abilities. They need ideas for student assessment in kindergarten that can reach each student. As such, here are 7 ideas that kindergarten teachers can use to gather data and learn about the students' progress.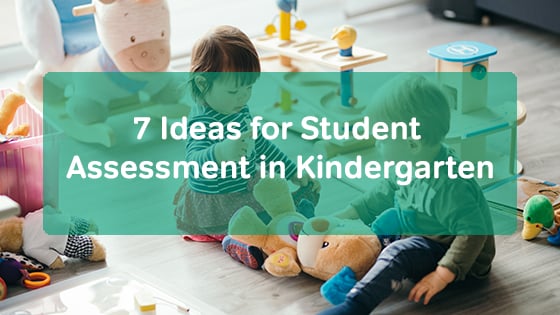 Teacher-Student Conferences
When meeting with one student at a time, teachers get to focus on the individual needs and ability of that particular student. It's a great way to discover the student's thinking process. This in turn can help the teacher figure out why a student might be struggling and how he or she can better serve that student.
Portfolios
To learn more about each students' progress throughout the year, kindergarten teachers can rely on portfolios. These should contain samples of students' abilities in math, writing, reading, etc. By adding to the portfolio at intervals throughout the school year, parents and educators can see the progress and learn more about how much the student has learned.
Checklists
By the end of kindergarten, each student should recognize the letters and numbers, know the sounds of each letter, and identify sight words. A quick way to find out what students do or do not know is by using a checklist. Have each student read through a list of numbers, letters, and/or words. Then, the teacher or classroom helper can make a check mark next to each one that the student can correctly identify.
Games
Find games that require students to identify their letters, numbers, sight words, etc. Utilizing games to test students' knowledge is a great way to find out what students know in a low-pressure situation.
Reading Buddies
During silent work time or centers, students have the opportunity to read one-on-one with the teacher. The teacher can witness how well the student reads and determine the reading level that they are currently on.
Journals
Students should get the chance to write on a regular basis. Then, teachers read through the journals. Teachers can identify how well words are sounded out, how well the letters are written, and how well students utilize proper writing punctuation.
Recordings
Teachers don't have to remember everything that they observe. They can take notes on students. They can also use audio or video recordings and other classroom technology. These can be reviewed or played for parents to demonstrate the student's abilities in the classroom.
Student assessment in kindergarten takes a lot of time and creativity. Teachers should utilize any parent volunteers or classroom helpers to provide one-on-one time needed to observe the students' abilities. What other ideas have you used for student assessment in kindergarten? Tell us more in the comments below.
And be sure to check out our Top 10 Teaching Strategies for more ideas on teaching those beautiful little tykes.