My friend struggled to get through her general classes. Let's just say that she didn't get the straight A's that she had hoped to get. She asked me, "does GPA matter for teaching jobs?" The simple answer is yes, but here are some things that you should know.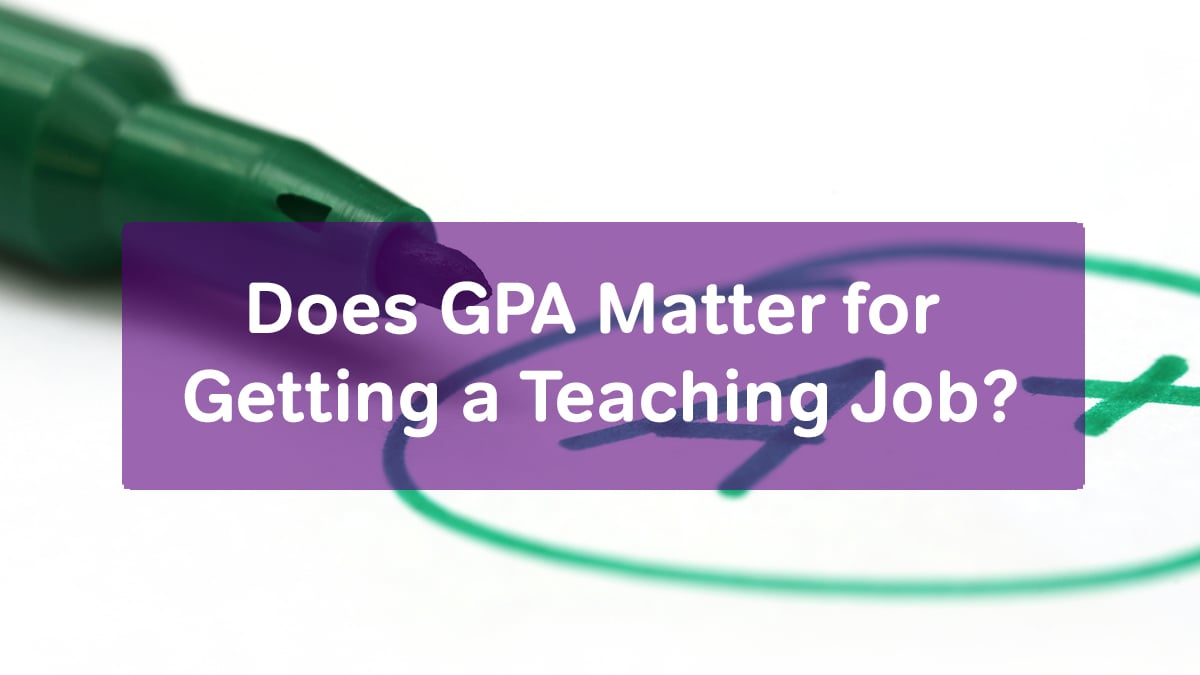 Applying for Teacher Education Programs
For most teacher education programs, you need a particular GPA to apply for the program. That means that the grades you get in general classes could prevent you from taking teacher education classes. I've found that most schools require at least a 2.75, but the exact GPA varies. Find out what GPA you need to apply to the program at your school.
GPA Matters in Your Teaching Degree Program
Any road to a teaching job starts with teacher training. And if you are pursuing an education degree, your GPA determines whether you'll graduate.
You'll need to maintain a certain minimum GPA in your classes. In fact, most teacher education programs set two separate GPAs. First, you must have minimum GPA for your studies as a whole. This is the cumulative GPA you can see on your transcripts. Within that whole-degree GPA, you'll also need to meet a minimum GPA for your teacher education classes. This GPA requirement is higher.
So for example, your university might require you to have a 3.0 GPA for all of your classes combined (including electives). And your school might also say that your GPA for your teacher education classes needs to be a 3.5.
Those numbers are above just hypothetical, though. GPA requirements within teaching degree programs are different at different campuses. And average program requirements also differ by state. This is because university teacher education departments work closely with their local state licensing boards.
So you'll want to talk directly to your university's teacher training department to find out the GPA requirements. Or if you're not sure where you want to study teaching yet, you'll need to look up average program requirements in the state where you'd like to get licensed. For instance, Minnesota teacher prep programs have an average total GPA requirement of 2.57, with an average 3.31 requirement for GPA in teacher education classes.
Of course, you can become a teacher without an education degree. But has its own pros and cons as well.
College Graduation
The next reason that GPA matters when it comes to getting teaching jobs is that you may need a particular GPA to apply for graduation. The GPA needed may depend on your cumulative GPA or your GPA in the teacher education program. If they look at your program GPA, they typically want to see a higher GPA.
GPA Matters for Getting a State Teaching License
State teacher licensing boards themselves also set GPA requirements. GPA regulations for teacher licensing can vary a lot from state to state.
Let me give you a few examples of state criteria for GPA. The Missouri Department of Education requires an overall GPA of 2.75 and a GPA of 3.0 for a teacher training classes and content area classes related to the license. To teach in Louisiana, you need an overall GPA of 2.5. And the state of New Jersey requires a GPA of at least 2.75, with a preference for a 3.0 GPA.
Moreover, certain states–such as Pennsylvania–can have very complicated GPA requirements. Pennsylvania balances GPA standards with Praxis score benchmarks. The higher your Praxis score, the lower your GPA requirement. This is a complicated setup, with different GPA and scoring rules for each type of state license.
GPA Matters in Alternative Certification Programs for Teachers
Alternative certification programs do not usually train teachers through traditional university coursework. So you seldom have to worry about GPA during program training.
However, your GPA does matter when it comes to actual acceptance into an alternative certification program. Alternative programs for teacher training only accept people who already have a bachelor's degree. And these programs will look at your undergrad GPA when you apply.
In most cases, alternative certification programs require an undergrad GPA of at least 2.5, and may ask for up to a 3.0. Alternative certification programs can sometimes consider applicants who don't meet their minimum GPA requirements. Take the New York City Teaching Fellows alternative route to teacher certification. NYC Teaching fellows requires a 3.0 GPA. But this program will consider candidates with lower scores if such candidates are acceptable to the partner university that provides classroom training to program participants.
Does GPA Matter for Getting a Teaching Job at an Individual School?
Individual K-12 schools don't usually look at the GPA's of their applicants. If you already have a license, schools know that you must have met the GPA standards of your certification program and your state licensing board. However, you still may face additional GPA requirements for jobs at prestigious private schools or jobs with highly competitive public school districts.
Resume
And finally, your resume. When you first start applying for teaching jobs, you don't have a lot of experience to include on your resume. Sure, you may have experience working with kids or volunteer experience. But since you don't have teaching experience to show, schools want to see your GPA. In this case, your GPA tells schools about some of the non-academic qualities that you have, such as:
Persistence
Resilience
Determination
In fact, if you leave your GPA off of your resume, the school may assume that it wasn't impressive enough to include. Plan on including your GPA until you have at least 1 teaching job to add to your resume.
Always Aim for More Than the Minimum GPA
The minimum GPA requirements you face are just that: minimum. To make sure you get your teaching license and have as many work opportunities as possible, you need to aim higher. Working toward your best possible GPA ensures that you won't accidentally fall short of the minimum requirements. It also opens the door to teaching jobs in states and schools that have higher GPA requirements than the ones you currently face.
It pays to be a diligent student. Learn that lesson and apply it now, so you can share that wisdom with other young learners in the future.
How to Improve Your GPA
With the importance of your GPA, you might be worried about how to improve it now. Some of the things that you can do include:
Retake classes that you didn't do so well in.
Aim to get straight A's for the rest of college.
Pick the right classes each semester. Don't overload yourself, so you can focus on your studies.
Go to class, sit near the front, and participate as much as possible.
Find a study strategy that works for you, such as

study groups, meeting with your TA, etc.
If you're wondering whether GPA matters when applying for teaching jobs, it absolutely does. Start working on your GPA now, so you can land a great teaching job after graduation.