Teacher salaries are a political "hot-button" topic these days. With education reform and state budget reform, there's a lot of debate about how much teachers should be paid and how much money should be spent on education in general.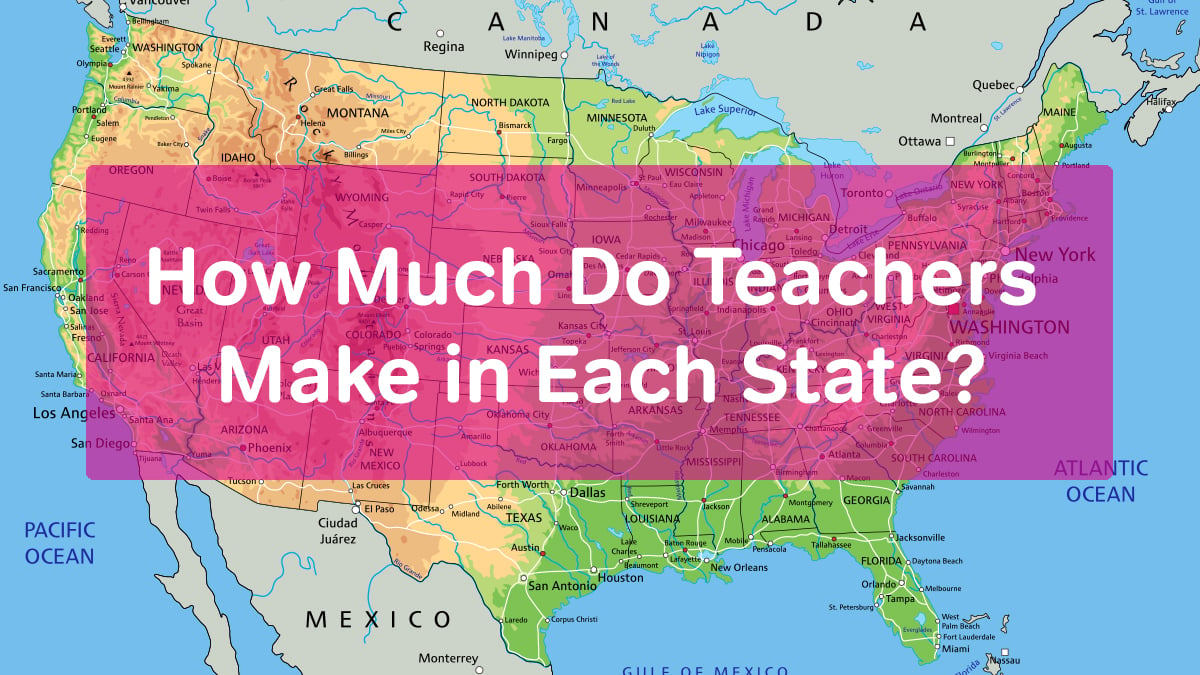 All this public scrutiny of teacher pay can really benefit teachers as they make decisions about their careers and finances. If you're a teacher, it's never been easier to find information about what you might be paid.
Your possible salary involves a lot of factors. The very biggest factor is the state where you teach. This is because the majority of jobs for certified teachers are in public schools whose salary schemes are a matter of state policy. Moreover, because public schools are so central to a state's teaching job market, public school pay influences the pay scale of charter and private schools. Every school that isn't public wants to offer pay that's competitive with the state-set pay-scale.
Entry-Level Pay by State
If you're just starting your career, you'll want to know what salary you might earn coming right out of the door. Depending on the state, the salary for first-year teachers ranges from roughly $30,000 a year to roughly $50,000 a year. This seems like a surprisingly broad range, but the "real" salary of teachers in terms of how comfortably they can live on their paychecks is a little narrower across the states. States that start closer to 30K tend to have lower costs of living, while states that pay near $50K are usually more expensive to live in.
When it comes to beginner pay, the states that truly pay the best are the ones with a very favorable ratio of pay to cost of living. Conversely, the worst-paying states are the ones with high start pay relative to living expenses. Magoosh provides a detailed analysis of the average starting salary by state here.
Midpoint Pay by State
Midpoint pay is a measure of the pay for all teachers in a state, not just beginners. Interestingly, the pattern of midpoint pay in states is significantly different than the patterns for beginning salaries. Oregon, for example, has some of the lowest starting pay for teachers in the nation at $33,549, but is slightly above average for the national midpoint of teacher pay, with an overall average teacher salary of $58,758.
These kinds of differences between starting salaries and long-term average pay for teachers happen for a number of reasons. One reason is that the pay schemes are subject to policy and economic change. One state governor or legislator may raise teacher pay, while the next administration may lower salaries. Furthermore, the income and property value of a state's population can go up and down. Teacher pay is based on local income and property taxes. So such economic factors will influence how much teachers make over the course of their careers.
And of course, some states offer teachers the chance to advance their pay more frequently and by larger amounts after their first few years of teaching. This is especially true for states where teachers can get tenure after their first few years of teaching.
Other Factors to Consider
Teacher pay is based on state policy, local policy, and regional economics. Because of this, teacher salaries can vary a good deal within a state. Rural teaching jobs pay different than urban ones. Schools in middle-class communities will have different funding than schools in poor or rich communities. Some communities may choose to fund education more or fund it less. Communities may also choose to put more money into school facilities, equipment, and textbooks–while putting less money into teacher pay–or vice-versa.
Different states also may pay teachers differently depending on their specialties. Pay scales for elementary, middle, and high school instruction are not the same in each state. The very top state for middle school pay may not be the top state for elementary pay. And a third state might pay the best salaries for high school teachers. Some states may also pay more (or less) than the national average for positions in specialty fields such as special education, reading, or early childhood education.
And as I mentioned before, the cost of living relative to pay needs to be considered. This is true for every state, as well as different cities and towns within each state. The long-term opportunities for bonuses and raises is a consideration as well.
The Takeaway
The best paying job in dollar amount is not necessarily the best paying job in real terms. And the "best" teaching job for you personally depends on a lot more than just the amount of money you take home on each payday. When looking for the best teaching job and location, you really need to do your homework and weigh each factor carefully.