It seems like there's an app for just about everything these days. Therefore, you probably aren't too surprised to find that there are a lot of apps you can use to enhance your teaching, simplify your job, and manage your stress. Check out these must-have teaching apps, organized by category, that you can download today.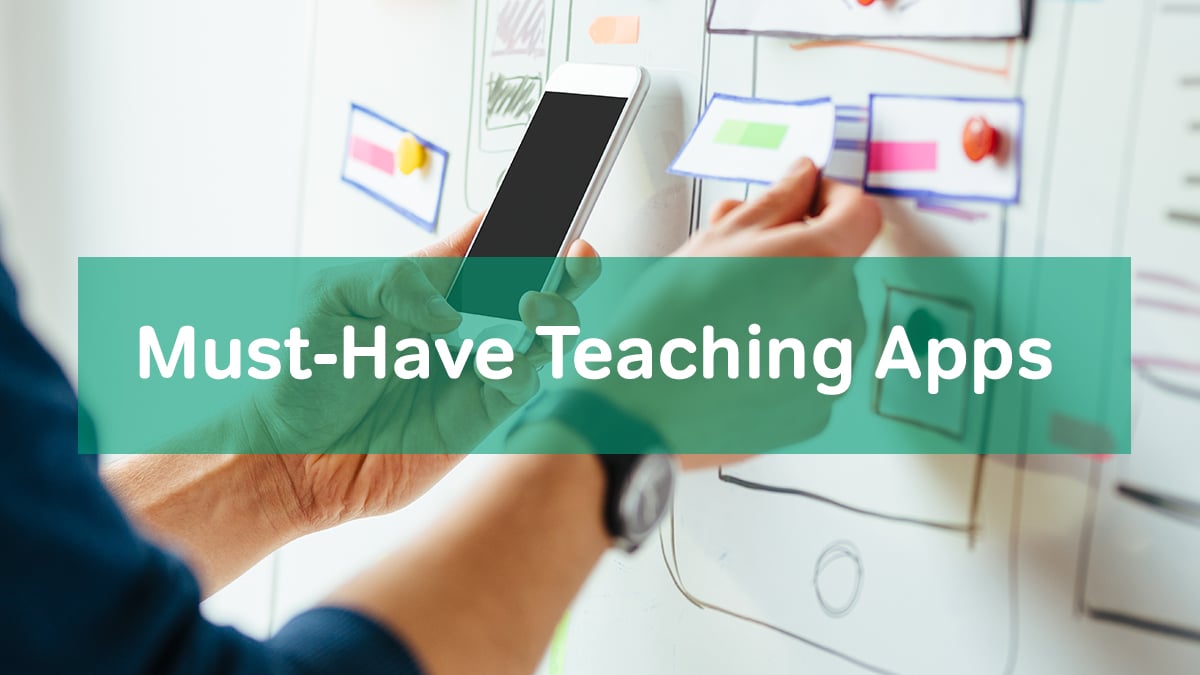 Communication
Presentations
If your students are preparing presentations for class, you can facilitate the process by using some of these must-have teaching apps. Some of the great ones to use with your students, include:
These apps allow you to add a voice recording over pictures, videos, and captions. You could also check out Powtoon, which allows students to create animated presentations for class.
Videos
Are you looking to incorporate more videos into your classroom? Check out YouTubeand TED. Both of these apps have a wide range of videos to choose from to fit any subject. However, it's a good idea to watch the videos beforehand to make sure that they're appropriate for your class.
Class Blogs
There are numerous websites that allow you to create a blog with several contributors. However, Kidblog is a great app to use for your classroom. Why? Because it's safe for students to use, protecting their private information online.
Lesson Planning
If you're looking for lesson planning ideas, check out the Scholastic Classroom Ideas to Go app. You can open this app anywhere to quickly find activity ideas for upcoming lessons.
While you're planning lessons, you might want to check the Common Core standards. Check out the Mastery Connect or Common Core ConceptBANK apps to review the standards that your students need to meet.
Organization
Many apps have been created to assist teachers with their day-to-day- tasks. To keep yourself organized, check out eBackPack or CanaryFlow Teacher to quickly assign and collect assignments, grade students' work, connect with parents, and more.
Taking Notes
Do you want to quickly take notes on your students' progress or behavior? Do you want your students to take notes in class and share them with classmates? Some of the apps that you can use for note-taking include:
Assessment
If your students bring their cell phones to class, use them as a resource in your classroom. Have students download apps to take assessments in class. Ask them about how they feel about something they're learning or quiz them over the material. Some of the great apps available for assessment purposes include:
Classroom Management
Yes! There are even apps available to help with classroom management:
Class Dojo

is a popular choice. It can be used for positive reinforcement, and it can also address any negative behaviors of your students.
Too Noisy Pro

helps students understand what is meant by speaking with your "inside voice." You can set the voice level, so an alarm will go off when the class gets too loud.
For tracking classroom behavior, try

Super Duper Data Tracker

or

Teacher's Assistant Pro. These apps allow you to track behavior issues and email parents to tell them about any concerns or compliments you have about their child.
What other apps have you used in your classroom? Are there apps that you would recommend to other teachers? Tell us about them in the comments below. Also check out more must have technology for the classroom.