Teaching isn't always — or even most of the time — an easy job, as most teachers are likely to tell you. If you're considering taking the Praxis and pursuing teaching as a career, there are quite a few things to consider. Here are 10 of the most important.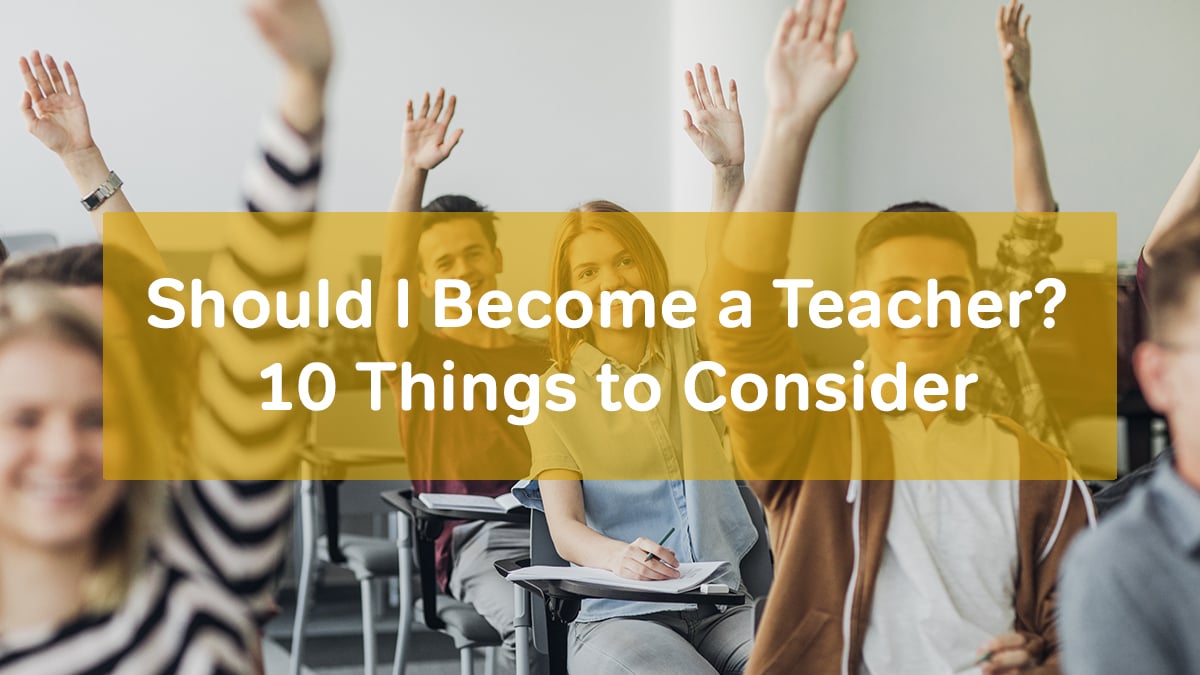 You'll Need a Whole Lot of Patience
This is more crucial in elementary and middle school teaching, but patience is perhaps the number one virtue among teachers. Students aren't always going to be rapt with attention, so be prepared to answer the same questions over and over again.

Be Prepared for All That Can Happen in a Room Full of Kids
You've probably heard the horror stories, so we won't go into in any details here. Suffice it to say that things can get ugly in the classroom. If you've never been alone in a room full of children, get to it. This is ground zero of being an educator.

You May Not Get to Teach What You Want
While teachers are usually in demand, the specific subject you're hoping to teach may not be. Demand for different subjects varies according to the state, population growth, retirement rate, and government budgets, so it's a good idea to do some research ahead of time.

Teachers Tend to Work a Lot More Hours Than They Really Get Paid For
Teachers tend to work more than 40 hours a week — some say getting off with fewer than 50 is lucky. Sure, you get summer off, but the rest of the year isn't likely to be a cakewalk in terms of sheer time spent at school. Don't forget to factor in lesson plan preparation, grading homework, after-school help, or rehearsals when you think about how much you're going to be working.

Dealing with Parents Can Be Tough
This probably isn't something that you'll learn a lot about in teacher training, but learning to work well with parents is a key part of the job. You'll need to be prepared to be clear and to set boundaries.
If you can make it clear to them that you care as much about their children's learning experience as they do, you'll be on the right track.

Pay Is Based on How Many Degrees You Have, Not on Merit
In the United States, teachers' pay scales are based on how many degrees, credit hours, or certifications they've earned. Some schools pay more right off the bat for certain certifications. For teachers in particular, it pays to keep learning. If your curious, why not check out what the teaching salaries are by state.

Learn about Teaching with Technology
Chances are you were born after 1980, so your brain probably interacts with technology in the same way your students' brains do. Other educators at your school might not want to deal with SMART Boards or the Wii Fit, but you should. The way students are learning has evolved in the past decade, and being able to utilize technology in the classroom will make you a more valuable teacher.

You Might Have to Pay Out of Pocket for Supplies
Not all school coffers are overflowing. You may have to be resourceful in acquiring the resources you'll need for the classroom. If you do end up having to spend your own money for things, keep the receipts! Don't be afraid to reach out to parents or local organizations and companies if you need some extra help getting materials for a fun project.

You Have to Work for Your Students' Respect
Kids won't always respect you just because you're standing in the front of the room. Earning this respect isn't about looking older or being strict: you've got to be consistently fair and reliable. The older the students, the more important this becomes.

Spend Time in Classrooms Before You Decide Whether to Become a Teacher
Once you've figured out which grade level you'd like to teach, do your best to get an internship at that level, or as close to it as possible. If you can get a year-long one, do it: six-week internships aren't sufficient to see how students develop over the year.

Do It for the Love of Teaching — Really
None of the above is worth a dime if you don't love teaching! This may sound trite, but if it's what you really enjoy doing, if you're good at it, and if you want to get out of bed to teach — then do it! If, after a couple of years, you find that it's not the right path for you, it won't be too late to move on.