What should your student teaching outfits look like? What to wear may sound like a silly question, but it's important . . . and surprisingly easy to get wrong.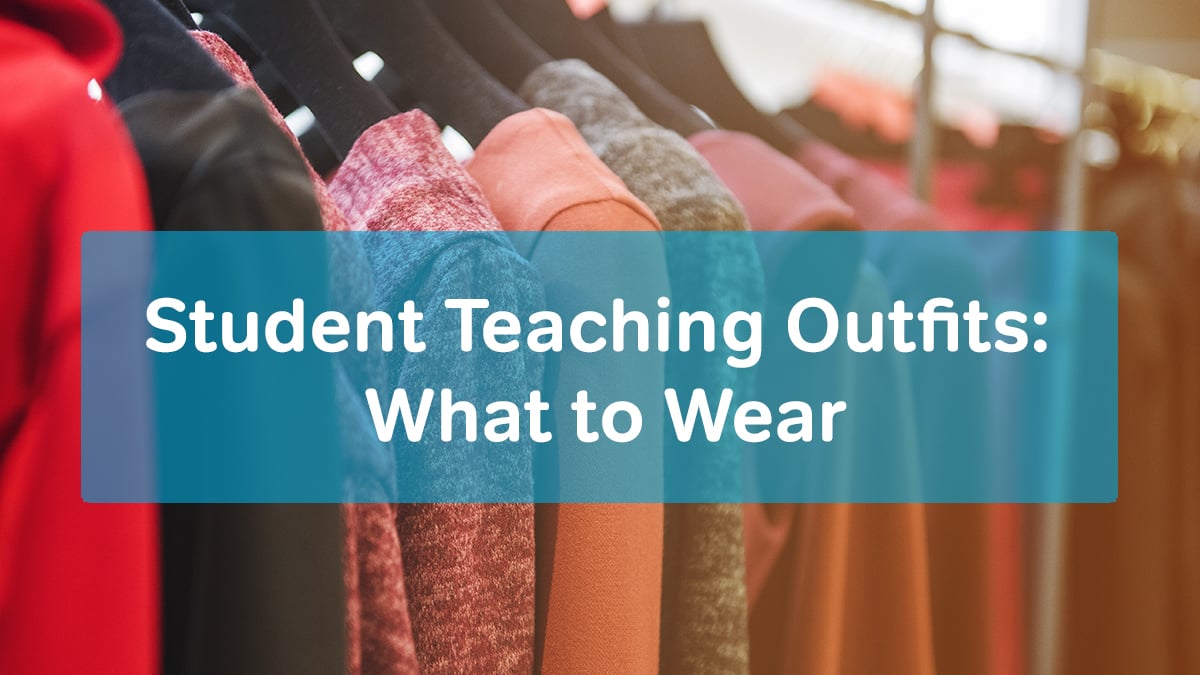 You see, most public schools these days have some sort of dress code even for their students. They also have an expectation that teachers will dress more formally than the student dress code requires. So it is very important to properly prepare for your first day of student teaching! To make a good first impression . . . and a good second and third impression, you need to dress the part.
Student Teaching Outfits Should Match the Dress Code of the School
A student teacher is a teacher. You may or may not receive the salary your colleagues are receiving. But you will have the same responsibilities as your fellow teachers . . . and the same expectations will be placed on you.
Student Teaching Outfits Are Usually "Business Casual"
Teachers usually dress in a style that could best be described as "business casual." Think slacks, not denim jeans. Wear a collared shirt, not a tee. Pants and not shorts. No prominent clothing company logos, even on "nice" clothes. You get the idea.
Student Teaching Outfits Are "Conservative Chic"
It's often said that teachers at K-12 schools are expected to dress "conservatively." "Conservative" here is being used in a social sense rather than a political one. So you'll want to dress in a way that seems serious rather than playful.
To understand how this conservatism works, you need to understand why schools have a more conservative attitude toward your outfits, compared to other adult workplaces that require formal wear. The "x-factor" here is the presence of children.
In an all-adult workplace, you'd only have to dress in a way that looks mature to other adults. But in a K-12 setting, you need to dress in a way that will make children perceive you as an adult authority. You also need to dress in a way that will make the parents perceive you as a mature role model for their children. Both your students and their parents will hold you to higher standards of maturity than anyone would at a regular office job.
Think of it this way: Imagine the outfit that your mother made you wear on fifth grade picture day. A good student teaching outfit will be like that, only a little bit more adult. That's the "conservative chic" mature look that children will respect and parents will trust.
What to Do if You're Not Sure about Dress Expectations at Your School
This is where things get a little tricky. Different schools can have slightly different "cultures" when it comes to the way you should dress. And some schools actually impose a specific dress code on the faculty and not just the students.
But it can be hard to fully guess what the dress expectations are. Maybe you didn't have a chance to visit your school before your first day. Or maybe you did make a preliminary visit or two, but simply didn't stop to notice exactly how teachers were dressed. It probably wasn't a detail that seemed important at the time.
If you're not sure what to wear on your first day, you could contact the principal or another staff member and ask them about dress codes and dress expectations. Be careful with this approach though. When you ask this question, it may seem like you're trying to figure out if you can get away with dressing in anything you want. In fact, I've seen school officials get offended when student teachers "test the waters" in this way.
The other route to go when you're not sure is to overdress on the first day. Your co-workers will seldom be offended if you show up in an executive "power suit." Erring on the side of caution shows them you really care about the first impression you make. From there, you can "adjust down" if need be, choosing more appropriate semi-formal wear.
I've done the "overshoot" on my first day of fieldwork (or actual paid work) at three different schools — and it always worked out well for me. So I can recommend this first-day approach with confidence. If you're going to overshoot, however, I must leave you with this caution. Do not wear overly constrictive dress shoes! This is because — and I've said before — sometimes at a teaching job you may suddenly need to run.