Student teaching is demanding full time work that can last for months, and even as long as a year! So many Magooshers may ask… do you get paid for student teaching? The answer to that question is not usually. However, sometimes paid student teaching is possible.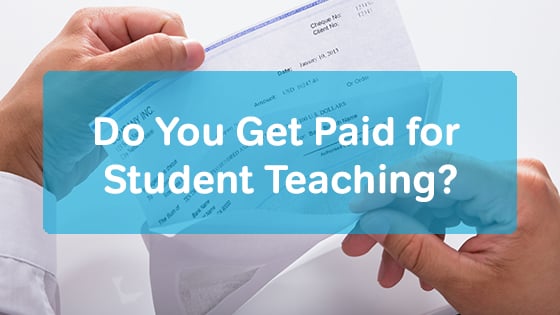 Do You Get Paid for Student Teaching Through a University Program?
If you are getting your teaching license through a traditional university degree program, you probably won't be paid for your student teaching. Most teacher colleges only arrange unpaid semester-long internships with local schools.
Still, student teaching pays in some situations. Shorthanded schools are sometimes willing to hire student teachers into paid positions on a temporary or emergency teaching license. This kind of short-term license is usually given to teachers who are expected to earn their full state license within a year.
Often, your university allows the first several weeks of a "full hire" teaching job to double as student teaching. But some universities have a policy against paid student teaching of any kind. Many other universities simply don't allow teachers to seek out their own student teaching experiences, paid or unpaid.
I've also seen some cases where universities let paid work as a classroom aide double as student teaching. Classroom aide work is a lot different than regular teaching work. So this kind of paid student teaching is very rare.

Do You Get Paid for Student Teaching in an Alternative Certification Program?
Alternative certification programs are designed to help teachers earn their licenses while they hold full-time paid teaching positions. In this sense, pretty much all student teaching in an alternative path to teacher licensure is paid.
Some alternative certifications pay their teachers-in-training at a reduced rate. For example, an entry level licensed teacher might be paid $35,000 a year. However, a trainee in an alternative program gets paid only 18 or 20K to do the same kind of work. Other alternative certification programs have been known to give their student teachers a choice. They can find a paid teaching position. Or they can complete a 3-4 month unpaid student teaching experience similar to the ones offered by universities.

The Takeaway
Longer, paid student teaching periods are the norm in alternative certification. Conversely, short unpaid student teaching experiences are standard in university settings.
Either path to licensure may offer some flexibility, however. It's possible to get paid for student teaching at a teacher's college. There are also options for shorter, faster completion of student teaching in alternative programs… if you don't mind teaching without pay for several weeks.