When using a classroom behavior chart, the teacher will have students move their name down when they fail to follow the rules or don't behave in class. I've seen teachers use a stoplight, golf course, and other signs for the chart. For the stoplight, all students start on green. If they have one issue, they move their name down to yellow. If they have another problem, they move down to red and face the consequences. Some teachers even allow students to move the clip up when students do something great, too.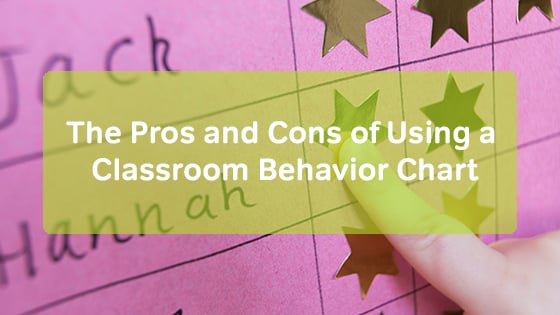 The classroom behavior chart system has several advantages and disadvantages. Before creating your own chart, here are some pros and cons for your consideration before you make it one of your teaching strategies.
Pros
A behavior chart is one option for

classroom management. It can help limit the amount of issues that you experience in your class throughout the day.
For students that need a visual reminder, hanging a behavior chart on the wall is a great way to tell them how they're doing on any given day.
When there are lots of interruptions throughout the day, it's difficult for teachers to meet the needs of their students. The classroom behavior chart helps keep the class under control, so you can focus on individual students.
For students who require

motivation

to excel, the classroom behavior chart provides extrinsic motivations for students to follow the classroom rules.
Cons
One of the biggest arguments against classroom behavior charts is that it can harm

students' self-esteem. A behavior chart is displayed for everyone to see. Students clip up or down in front of their peers. As such, some students will feel degraded and resentful towards you. If this is the case, then your students will feel less comfortable participating in class.
There are lots of different classroom management issues that teachers deal with on any given day. A behavior chart won't solve all the problems. When using one, you should be prepared to handle difficult students that won't respond to the behavior chart.
I've found that many students act out because of something that they're dealing with at home, with their friends, etc. If you're going to get students to follow the rules, you need to figure out the root of the problem and try to help students deal with it. The behavior chart won't be able to help you do this.
For students who thrive on extrinsic motivation, a behavior chart will stress them out. They will worry so much about following the rules to prevent clipping down that they'll struggle to perform well in class.
Weigh the pros and cons of using a classroom behavior chart to determine whether or not you should use one in your classroom. If you decide to use one, clearly discuss the classroom rules and what students can do to clip up or clip down. Then, be ready to consistently enforce the rules and use your behavior chart with your students.