You might remember your parents dressing you oh so carefully on your first day of school as a kid. For teachers, you do have to dress yourself now (sorry), but the outfit choice for your first day of school is just as important! It is your first chance to make a good impression on both the families you will be working with and the students you will be teaching. Here are some things to consider when choosing your first day of school outfit.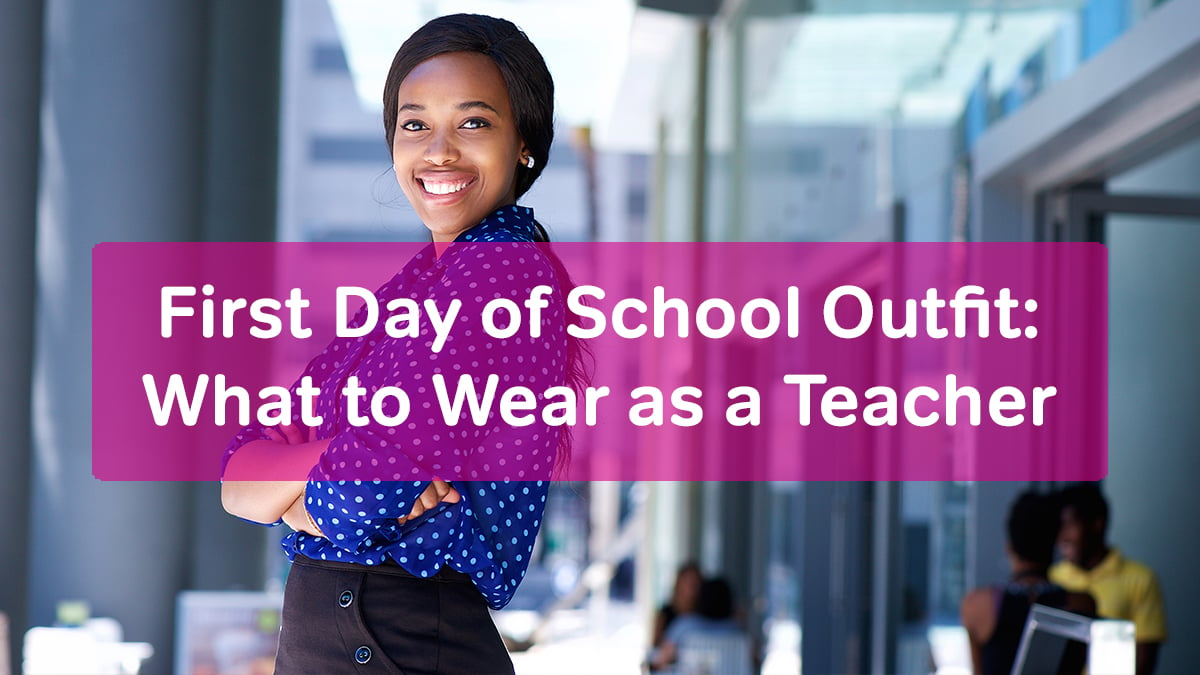 What Is Your School's Dress Code?
This is pretty obvious, but you should follow your school's dress code for faculty. This is especially true on the first day! Some schools have uniforms for their staff, so make sure you know what is expected. If the dress code is something like "khaki pants or a skirt and collared shirt," then you have more room to follow the dress code while still dressing smartly for your first day. My rule of thumb for the first day is dress one level above what you would normally wear day-to-day.
How "Serious" Do You Want to Look?
This is the next consideration. On my first day teaching 2nd grade, I was shaky as a leaf and so was my confidence! I decided to wear a full-on skirt suit to teach (this may or may not be appropriate for you, see below). It was definitely not something I'd do any other day of the school year, but it was a great confidence boost for me and showed to the school that I took my job seriously.
That may or may not be the message you are going for! It is perfectly fine if the message you want to send is "approachable and friendly." In that case, something a slight step above what is required from the dress code might be a good choice for your first day of school outfit.
What Age Group Are You Teaching?
This is huge! It is simply not appropriate to wear a suit to teach pre-kindergarten! Why? Because you need to be down on the floor playing with kids (and probably having contact with bodily fluids now and again). Similarly, it wouldn't be appropriate to wear scrubs to teach high school English.
Think about the actual physical demands of your job and look at what others with the same job are wearing. For the first day, step it up a little more than usual, but don't wear something that would prevent you from being an effective teacher.
What Region of the Country Are You In?
This one may take a little while to pick up on, but in general, the East coast is more formal than the West coast (or really, the West in general). The Midwest varies depending mostly on the size of your city or town. For example, in Denver, you know someone is from out of town if they are wearing a suit! Conversely, in Washington D.C., jeans and a t-shirt would be far too casual for most teaching environments. If you aren't sure what the norm is, ask around during the in-service week before school starts to see what others will be wearing. Have a great first day!
By the way, since you're just getting this teaching ball rolling, we've got some other great articles like how to stay organized and the importance of setting personal goals you may find helpful.