Inclusion is creating a community in your classroom that includes both students with and without disabilities. Research shows us that not only is inclusion best practice, but it benefits ALL kids and should be part of your classroom management strategy.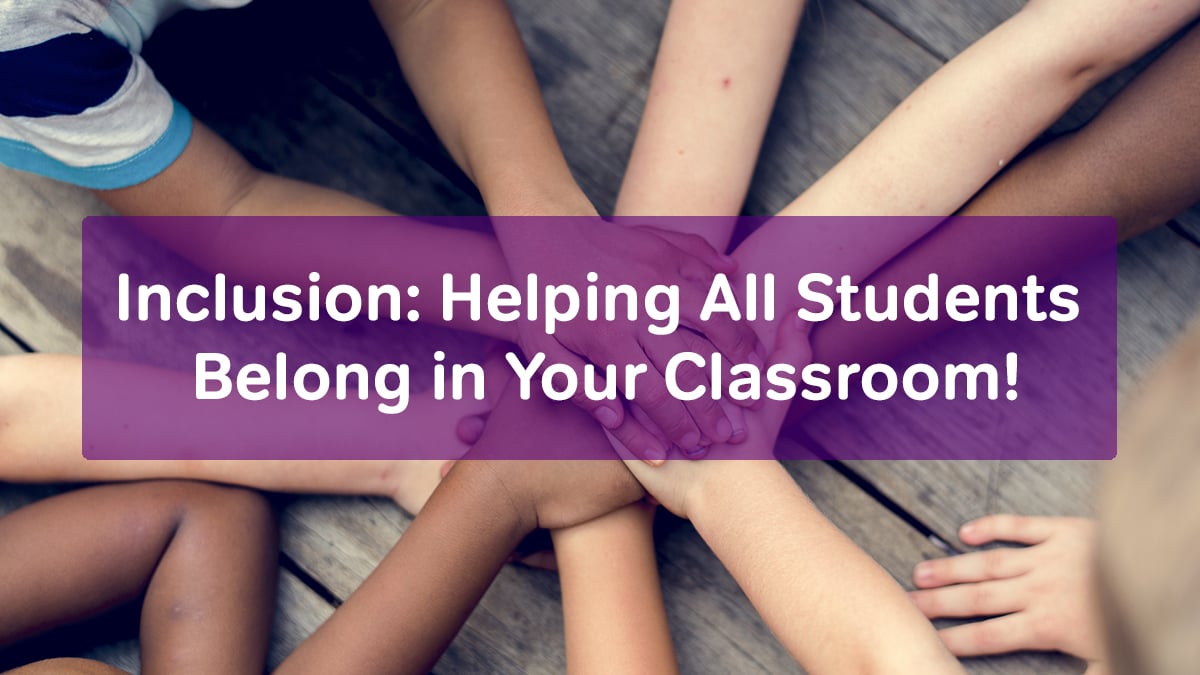 The U.S. Department of Health and Human Services and U.S. Department of Education define inclusion in early childhood programs as:
including children with disabilities in early childhood programs together with their peers without disabilities
holding high expectations
intentionally promoting participation in

all

learning

and

social activities
using individualized accommodations
using evidence-based services and supports
fostering:

development
friendships with peers
sense of belonging
This applies to all kids, regardless of the severity of their disability. And it can be scaled up for school-aged children as well. (The research below is geared towards early childhood, which is my background. However, there is also strong support for inclusion in higher grades). Inclusion is about making the classroom ready for the child, not making the child ready for the classroom.
What Does Inclusion Look Like?
It may be more helpful to look at some examples of what inclusion is not.

Graphic created by author
What Inclusion Is
NOT
Let's start by looking at some things that "inclusion" is NOT.
Practicing different skills in different areas than peers without disabilities.
Practicing skills during different routines than peers without disabilities.
Entering the classroom for designated periods of time only (e.g., recess, music time, snack).
Leaving the classroom for separate instruction ("pull-out").
What
IS

Inclusion?

Now let's look at what inclusion IS! Inclusion means that all children have:
Access

to typical settings, routines, curricula, and physical locations.
Participation

as full members of the classroom community, including full engagement in both academic and social environments.
Support

for individualized education (IEP) and support for the teachers and families that help kids succeed.
Benefits
Inclusive classrooms have the same or better academic results for children with special needs.
Typically developing children develop more empathy in inclusive classrooms.
Teachers and parents of children both with and without disabilities who have participated in an inclusive class would recommend inclusion to others.
Children with disabilities (across severity of disability) experience positive growth in social skills, adaptive behaviors, literacy and language skills, and cognition.
Typically developing children in high quality inclusive classrooms have similar or better academic performance as those in segregated classrooms.
It's the law! IDEA mandates that children should be educated in the "least restrictive environment." That's inclusion, and it can work for any child.
How Do I Make My Classroom More Inclusive?
Have a community mindset that's focused on welcoming

all children.
If you are a general educator,

work together

with the special educator and therapists. Incorporate them and the skills they are teaching into your lessons, especially when individualizing for students with special needs.
Work with your team to advocate for inclusion. This includes when you meet with specialists

at IEP meetings. Share research and problem solve solutions to make it work.
Get creative about individualization. Remember, providing individual support to help a student succeed is a big part of making inclusion work!
Seek out training and professional development (for instance, from the

Council for Exceptional Development).
Be an inclusion champion!

Often, schools don't practice inclusion because they do things the way it's always been done. Learn about inclusion and promote its practice.
Stuck? Reach out to me in the comments below. I'd love to help!
Resources
Research and Policy Statements (Early Childhood)
Blogs, Resource Lists, and Stories