Before I get into this topic, I have to say I was thrilled when Magoosh asked me to write about this! I started my career teaching abroad, and I love teaching in other countries. Immersing yourself in a foreign culture can be an inspiring, life-changing experience. And teaching jobs provide one of the easiest tickets to life abroad.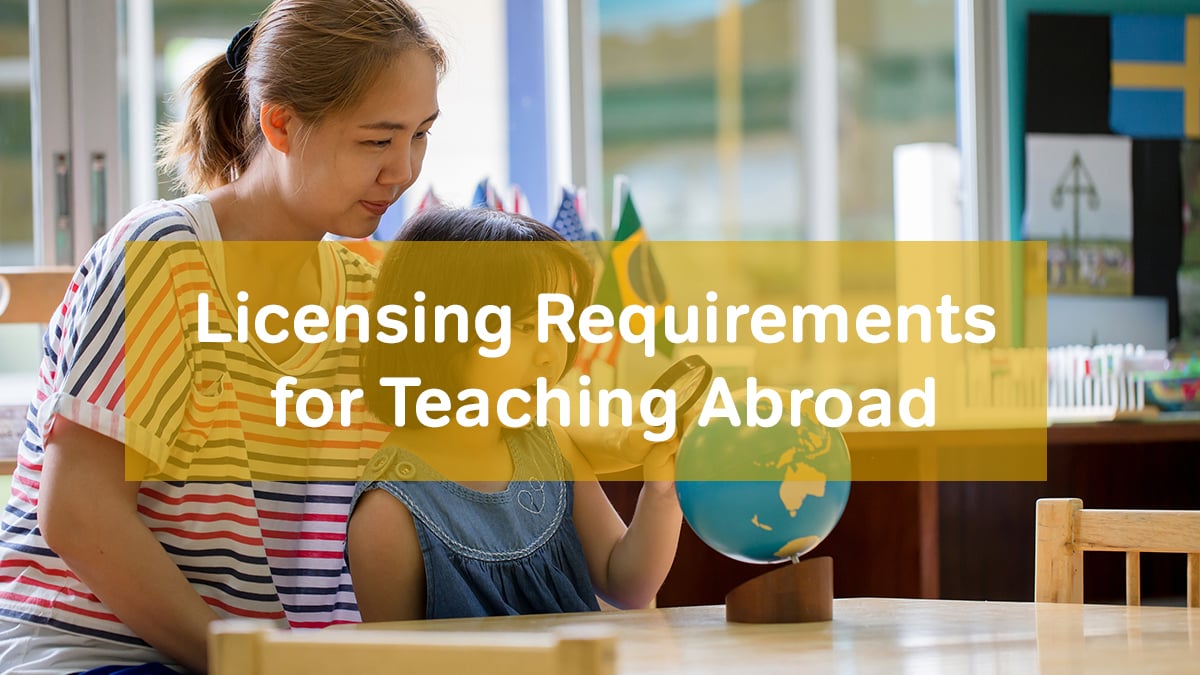 The prerequisites for teaching overseas are as varied as the nations, cities, and different types of schools that exist all around the world. Some overseas jobs don't even require a teaching license, but some do. You may need a license for the two most common types of overseas teaching jobs: ESL and international school positions. We'll discuss these two types of jobs in this article.
Licensing Requirements to Teach ESL
Many ESL teaching positions don't actually require a license. This is especially true in private ESL academies. (These are after-school programs where parents pay a little extra money to give their kids a boost in English.) This is also sometimes true in overseas public school systems. East Asian public school systems are particularly willing to hire unlicensed teachers as ESL instructors.
However, even when there is no requirement for a full teacher certification, it's not uncommon for ESL employers to ask for a TESOL certificate. A TESOL certificate requires a relatively short round of coursework that introduces teachers to TESOL: Teaching English to Speakers of Other Languages.
CELTA
One of the most widely accepted ESL teaching certificates is the CELTA. This is a rigorous teaching certificate with a major focus on linguistics. Conversely, most other ESL certification courses are more focused on the art of teaching.
Other TESOL Programs
Other big-name TESOL certificate providers include Oxford Seminars and ONTESOL. Numerous universities provide TESOL certificates as well. Some examples are Anaheim University and Hamline University. They host two of the more famous university-based certificate programs in the US.
Even though a TESOL certificate isn't always required, getting one is a good way to start an ESL career. And that is a quick, affordable way to get a feel for the profession, while giving you a competitive edge over other applicants.
Licensing Requirements to Teach at International Schools
International schools are regular day schools. They are administered in much the same way as public and parochial schools in the US and Canada. This class of schools is designed for the children of expatriates living abroad. These schools exist so that children can get an education taught in their language, and to the standards of their parents' home countries.
Located Overseas, But Licensed at Home
International schools are located overseas, but accredited by their home countries. International schools are seen as a source of English language immersion education. So even non-English-speaking countries like Korea and Japan sponsor overseas schools where English is used.
What License Do You Need?
To teach at an international school, you usually need a teaching license from your home country. In other words, you need the same kind of license you'd need to teach at a public school in your home state or province. In most cases, you need a license in the subject area you want to teach. For instance, you need an elementary school license for teaching at an international elementary school, a science license for teaching science in an international school, and so on.
A Bit More Flexible
However, international schools can be a little more flexible when it comes to accepting licenses. They're more willing to accept a license earned through alternative certification or the equivalency. And they don't care what state your teaching license is from. Because international schools aren't located in America, the rules to transfer your license from one state to another simply don't apply.
International schools even sometimes hire unlicensed teachers. However, international K-12 schools must do this sparingly. They are accredited in their home countries, so they must meet their home country's qualifications for teachers. If you see an international school that seems a little too willing to hire unlicensed instructors, approach them with caution. This could be a sign of larger administrative problems.
Summary
Teaching overseas can be the experience of a lifetime! It's a great way to begin a teaching career, or simply "get your feet wet" to find out if teaching is for you. Obviously, it also has the perk of living and experiencing a new culture from a perspective you simply can't get if only on a quick vacation. So if you have any interest teaching overseas, I encourage you to do your research and seriously consider all of your options!