The moment you arrive on campus for a teaching job interview, you're being evaluated. The interviewers are observing you and trying to decide whether or not you'd be the perfect fit for their school. To start the interview off on the right foot, check out these ideas for your teaching interview outfit.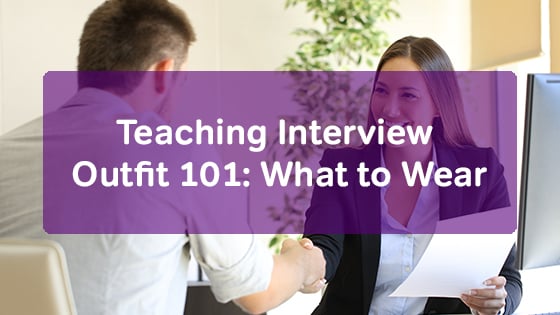 Clothing
Although many teachers dress casually these days, it's important to dress more formally for the teaching job interview. Aim for something more on the conservative side, too.
Women: Try a pant suit, skirt and top, or dress. Stick to solid colors. Skirts should be knee length or longer, and refrain from any skirts or shirts that are too form-fitting.
Men: A business suit is a great teaching interview outfit. Choose a neutral color suit that fits well. Wear a white button-down shirt. If you don't have a white shirt, you could wear another neutral color. Pair your suit and shirt with a solid tie or one with a subtle pattern. If you don't own a suit, nice slacks and a button-up shirt are acceptable, too.
Accessories
Shoes should be conservative. Take the time to polish them the day before. If you're going to wear a belt, make sure that it matches the rest of your teaching interview outfit, especially your shoes. Women should wear pantyhose with skirts and dresses.
If you choose to wear jewelry, stick to small and subtle items. For earrings, you could wear small hoops, studs, or diamonds. Remove any nose rings, lip rings, or upper ear rings for a conservative and professional look.
Make-Up
Keep your make-up simple and natural. The day of your interview is not the time for a dramatic look. If you usually wear cologne or perfume, refrain from using it on the day of your interview. Some people are allergic or highly sensitive to scents. You don't want to negatively impact anyone during your interview.
Hairstyle
Try a conservative hairstyle for the interview. Women, for example, could wear their hair down or back in a ponytail. Men should consider getting a quick trim and styling their hair in a professional manner.
When you walk into a job interview, you should look and feel your best. You want to be confident in how you look and feel. You also want to make a great first impression. Start thinking about your teaching interview outfit and how it could impress the hiring committee.
Then, focus on two additional items. You should review questions you want to ask the interviewer. Also, it is wise to put in some thought about how to answer the common interview questions you might be asked to increase the likelihood of landing the job you want.